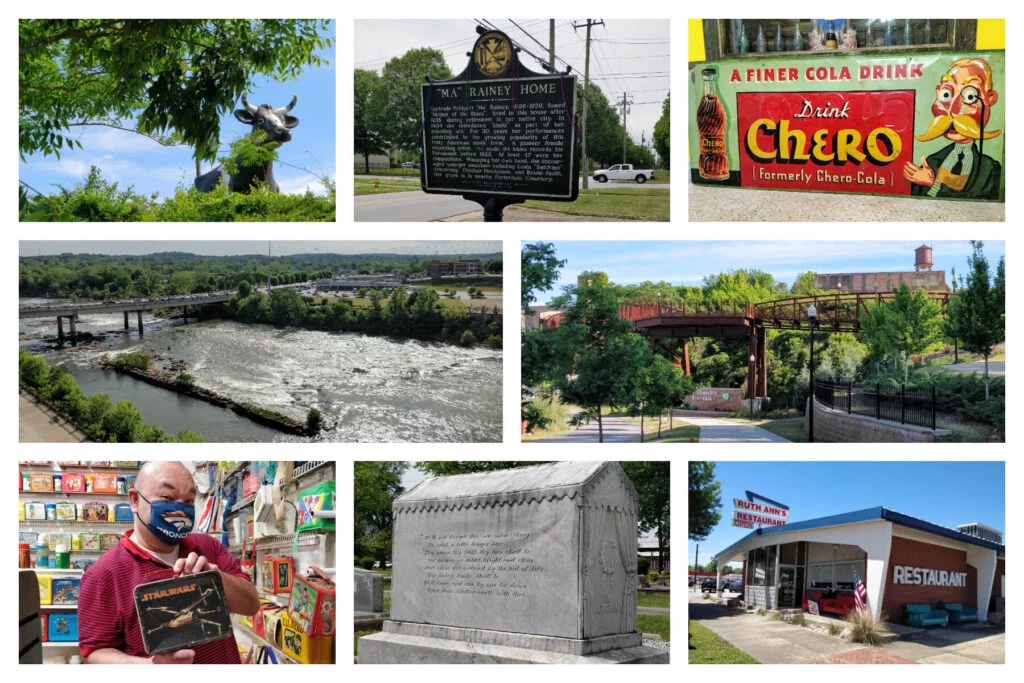 Home of the Father of Coca-Cola & Mother of the Blues
When Atlantans think about a weekend getaway, they think about Savannah or Tybee Island, Blue Ridge or Dahlonega.
They don't think about Columbus.
Heck, when we texted a friend who grew up in Columbus to tell her we were there, she wrote back, "I hope you mean Columbus, Ohio, and not my hometown."
That makes it a great fit for "Y'all Went Where?"
A city of about 200,000 that for most of its history was best known for its mills and military base, Columbus has a reputation for being rough around the edges. But we found a lot to like, from the 15-mile path along the Chatahoochee River to the restored home of blues legend Ma Rainey to the jam-packed shelves of The Lunch Box Museum.
---
We visited the grave of Coca-Cola inventor John Pemberton, popped into a most unusual Burger King, posed beside a giant cow, got a sneak peak at the soon-to-open RC Cola Museum, and ate lunch in an actual Greyhound bus.
Not far from town, we toured two incredible folk art facilities—Pasaquan and the Drive-Thru Museum. More about those in future posts. For now, here are some of our favorite finds in Columbus.
---
The Lunch Box Museum
The Ghost of Schooldays Past awaits you in The Lunch Box Museum, tucked inside The River Market Antiques store. Owner Allen Woodall Jr., who has the loveliest Southern accent you've ever heard, charges $5 to see his collection of more than 5,000 lunchboxes, thermoses, and TV trays. All the classics are here, along with a bunch that will make you say, "Who wanted that?" (Jonathan Livingston Seagull?!?) If Mr. Woodall has duplicates, he'll sell you one. [1]Watch out, though, this man knows how to drive a deal. His collection includes some true rarities, like an electric lunchbox from the 1930s.
The Lunch Box Museum so moved Fred that he created his very own web story about it. [2]I love lunch.
---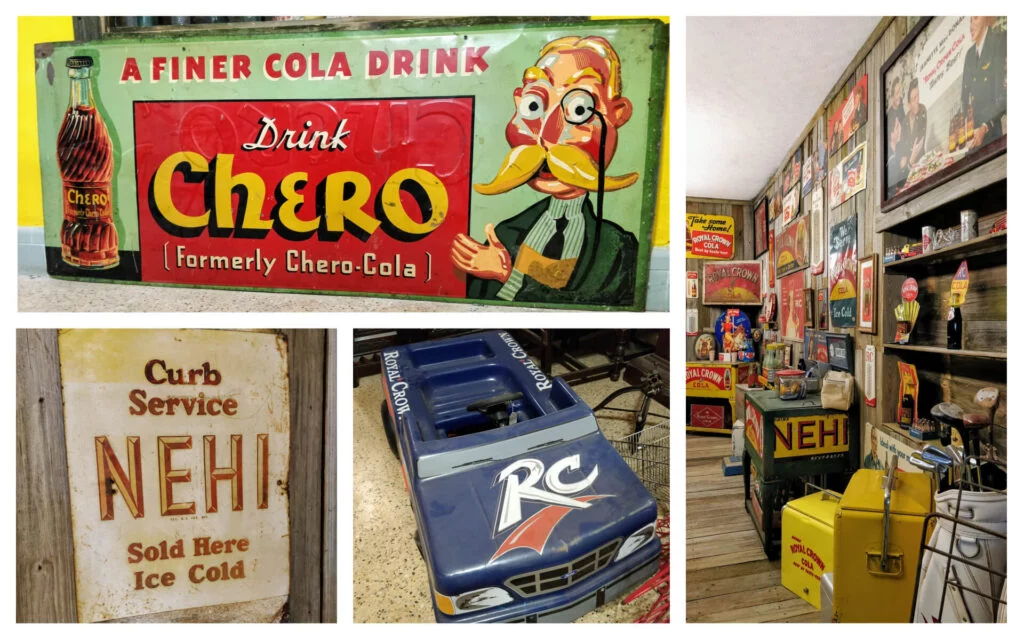 RC Cola Museum
Mr. Woodall is now creating an RC Cola Museum, which he plans to open in time for his 87th birthday in July 2021. The day we visited, he'd given a sneak peak to media, tourism officials, and RC Cola execs, and his daughter was kind enough to let us take a gander as well. [3]They are putting together something special.
Royal Crown Cola's inventor was Columbus pharmacist Claud Hatcher, who first bottled his drink in 1905 under the name Chero-Cola, eventually shortened to Chero after Coca-Cola sued him. When Chero's popularity declined, the company focused on its Nehi line before relaunching Chero in 1934 as Royal Crown.
---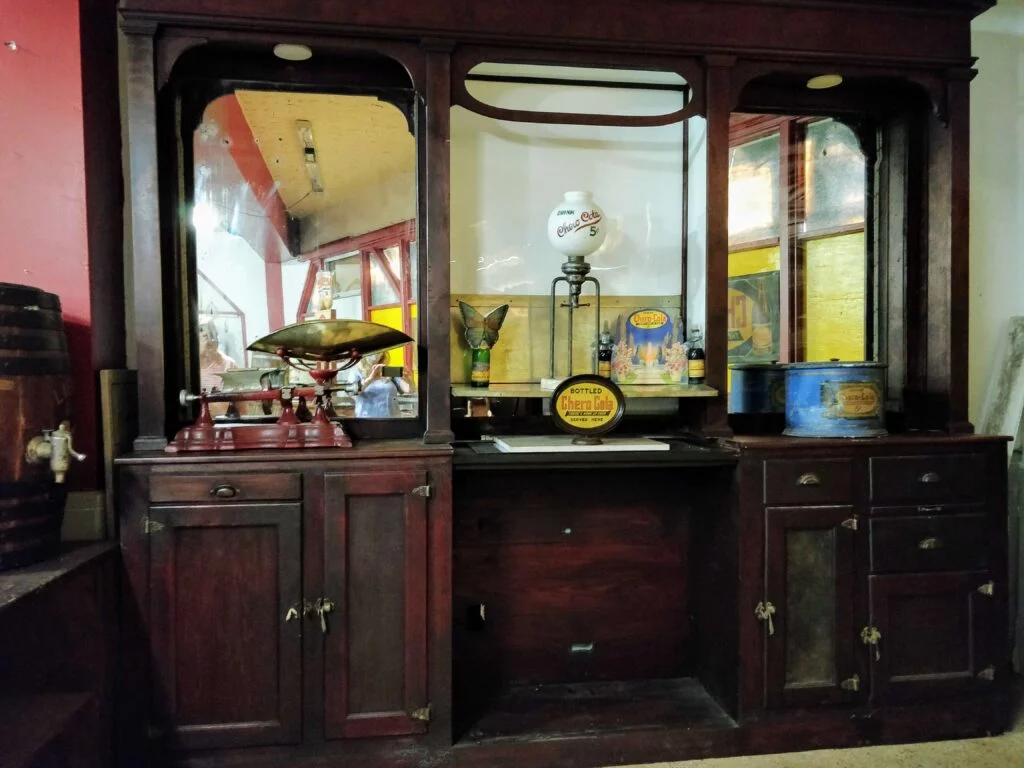 Chero-Cola
While Coca-Cola has a massive museum in Atlanta, RC Cola has nothing. Mr. Woodall aims to change that. One of the centerpieces of his tribute will be this gorgeous original Chero-Cola drugstore fountain. He's also installed a few tables and chairs, where people can sit and perhaps enjoy an RC Cola and Moon Pie. A couple of other fun facts about RC: It was the first to use aluminum cans and the first to introduce a diet cola (I remember a time when my mom guzzled Diet Rite).
---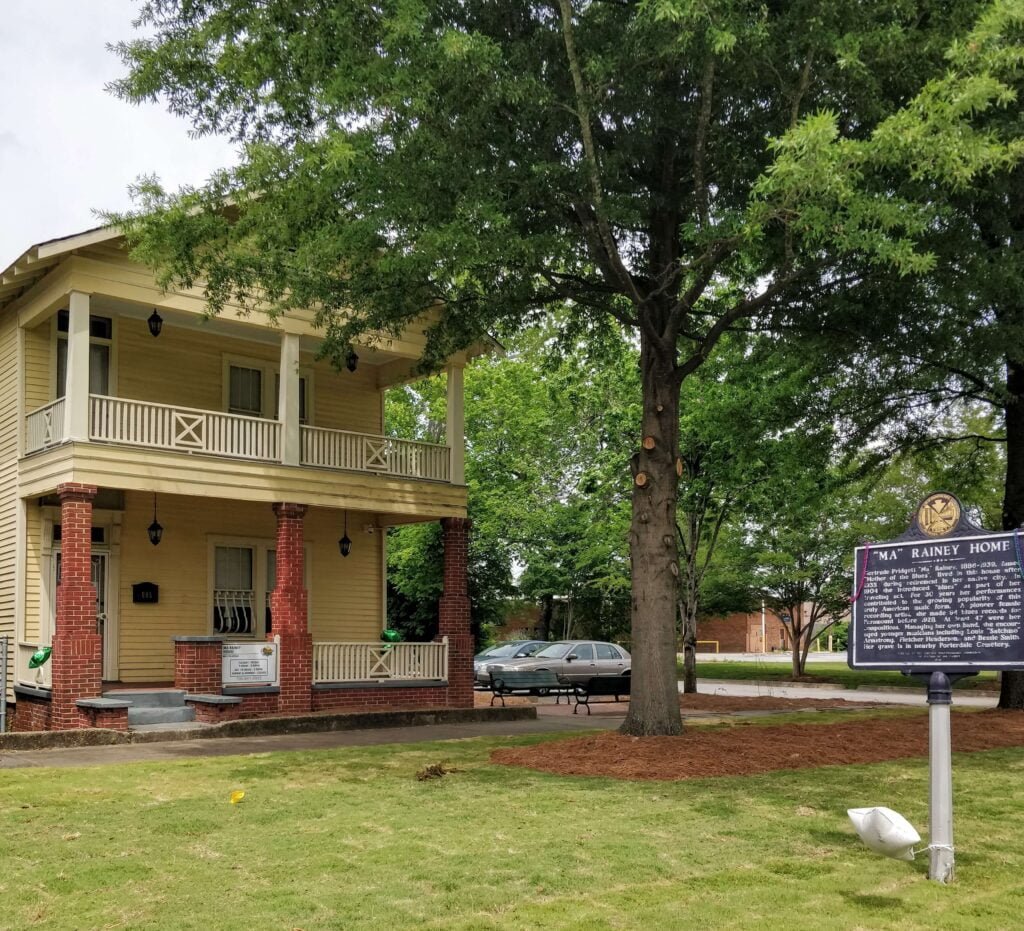 Ma Rainey House
Ma Rainey—who many call "The Mother of the Blues"—grew up in Columbus and returned to this house, which she had built for her mother, after retiring from the stage in 1935. The city rescued it from near-collapse in the 1990s and, with help from private citizens and public grants, spent half a million dollars restoring it and turning it into a museum. Today, visitors can tour the home's downstairs free of charge. You can learn more about her and see more of the house in this related post.
---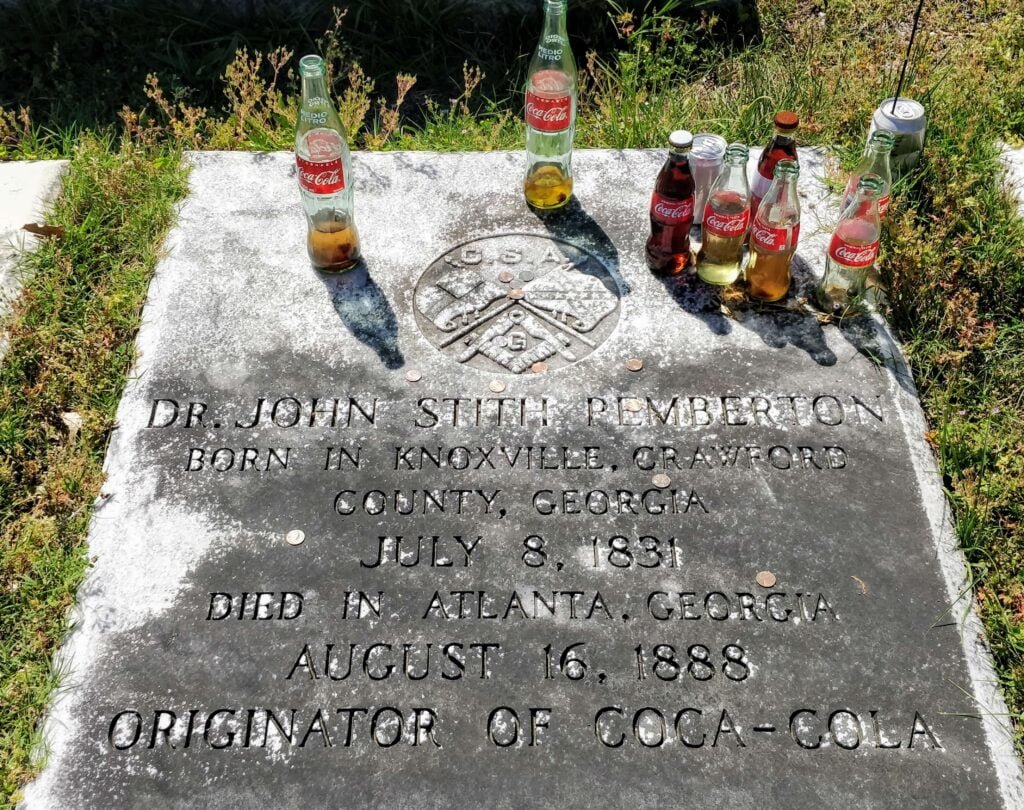 John Pemberton's Grave
As something of a Diet Coke fiend, I felt I had to pay my respects to the man who gave the world Coca-Cola. John S. Pemberton lived in several Georgia towns before setting up shop in Columbus as a pharmacist. He took a saber to the chest during the Civil War and ended up addicted to morphine. That spurred him to try to develop morphine-free pain relievers, one of which eventually became Coca-Cola. Sadly for him, he sold most of his rights to the formula shortly after it hit the market, in part to pay for his morphine addiction.
You'll find his grave in Historic Linwood Cemetery near 17th Street—all the way in the back if you come in the main entrance. Though some other notable cemetery residents have historical markers by their graves, he does not.
---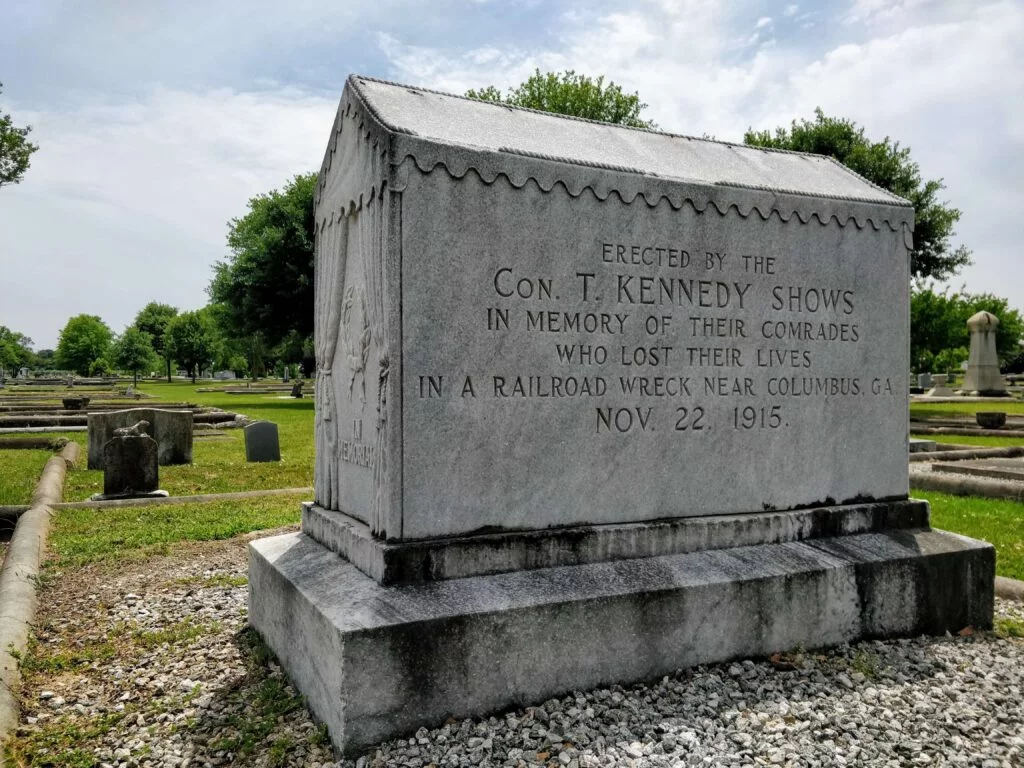 Circus Train Crash Memorial
One fall day in 1915, six miles outside of Columbus, a train filled with circus performers collided with a passenger train whose conductor had ignored instructions to wait at a junction until the circus train passed.
The travelers in the steel passenger train escaped unharmed, but fire engulfed the wooden circus cars, injuring at least 50 and killing 24.
To honor his fallen employees, circus owner Con Kennedy erected a monument shaped liked a circus tent in Riverdale Cemetery (1000 Victory Dr.). No one is sure how many are buried there, as at least some were transported back to their hometowns. You can read more about the crash and a 2-year-old girl named Hazel saved from the burning wreckage in this fascinating story published on the 100th anniversary of the crash.
---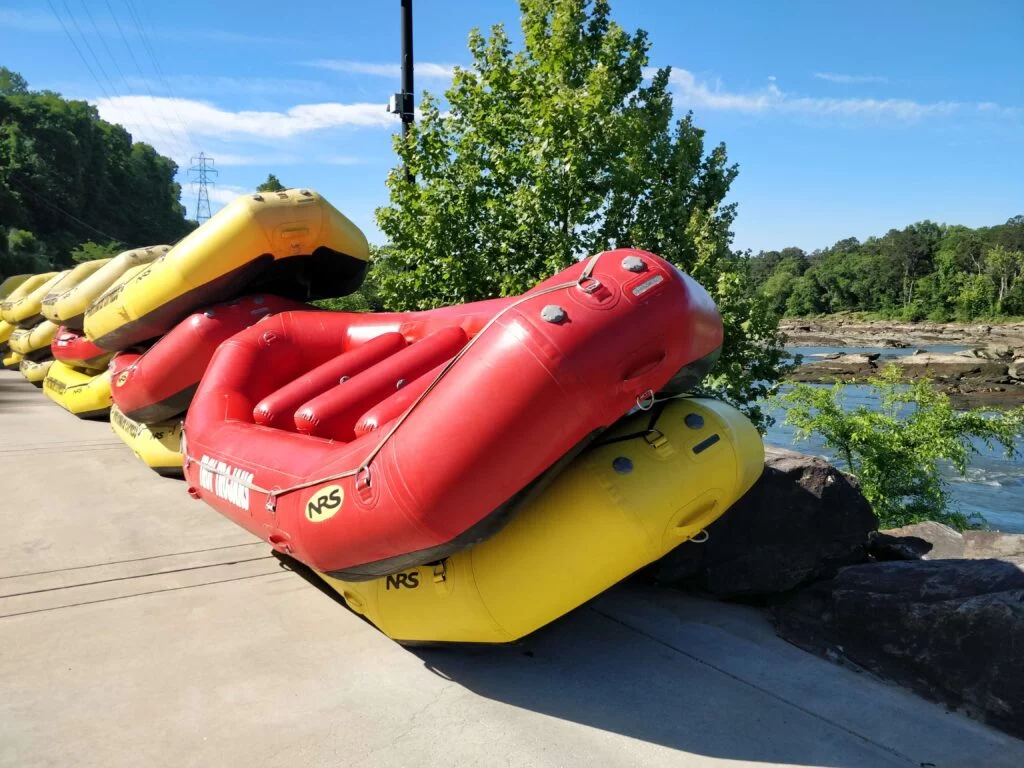 Chatahoochee RiverWalk
We stayed in an adorable AirBnB in Bibb City, just a few blocks from the Chatahoochee RiverWalk, a 15-mile path along the water that's perfect for walking and biking. If you're into whitewater rafting or you'd like to zipline across the river from Georgia to Alabama (and vice versa), check out Whitewater Express. Or just head downtown to enjoy the river views at Hotel Indigo's rooftop bar, Eighteen85. [4]Be careful when traversing the path in this area, though. Soyia almost got run over by some crazed river people in a van.
---
Railroad Depot Burger King
This is without a doubt the most fun BK we've ever seen. It's shaped like a train depot, and inside you'll find a ticket booth, a faux train schedule, and a section housed in what looks like a rail car. A friendly employee who saw us taking photos told us it's the largest Burger King in the Southeast and is used as a management training center.
Our green friends can take advantage of its electric car-charging station while chowing down on an Impossible Whopper.
---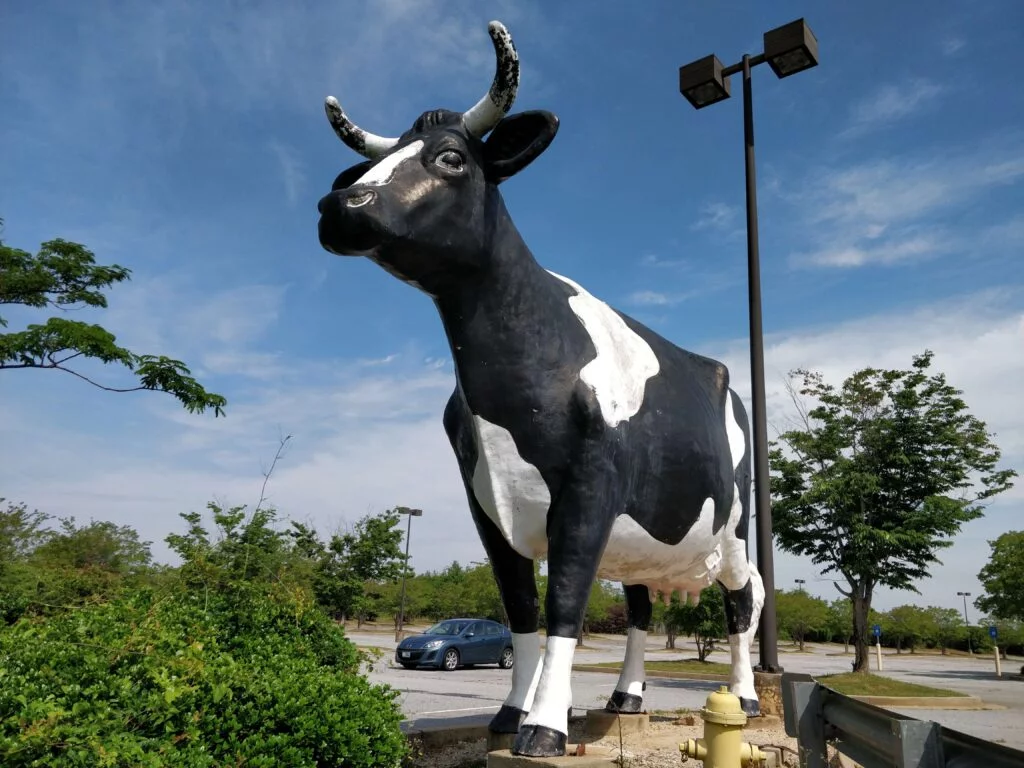 Kadie the Cow
Kadie the Cow is a Columbus icon, but today the poor gal stands udderly alone outside a shuttered Best Buy. Kadie was the mascot for the now-closed Kinnett Dairies, and she really deserves a better home than on a lonely hill above a mall (on the same street as the train depot BK). There's talk of moving her to downtown Columbus. Whatever happens, we hope they don't ship her off to the Conyers Cow Tower.
---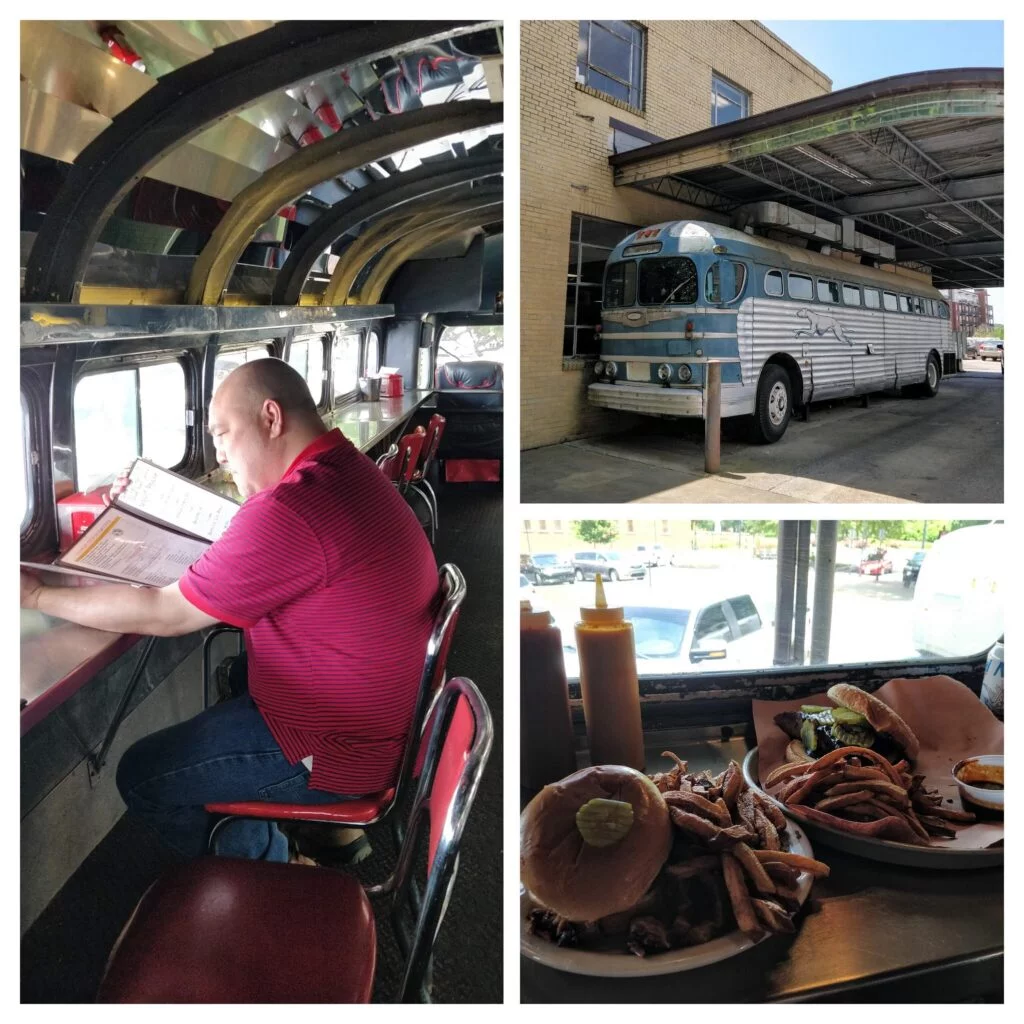 BBQ on a Bus
Want to feed your face in an actual 1930s Greyhound bus? You can at Country's Barbecue, housed in downtown Columbus. The restaurant is located in the old Greyhound station, and the bus has been outfitted with tables and chairs and attached to the side of the building. It's really cute, but we're not gonna lie: The barbecue was awfully dry. [5]I washed it down with a couple of Natural Lights because I am classy. Columbus friend told us we blew it by not getting the banana pudding.
---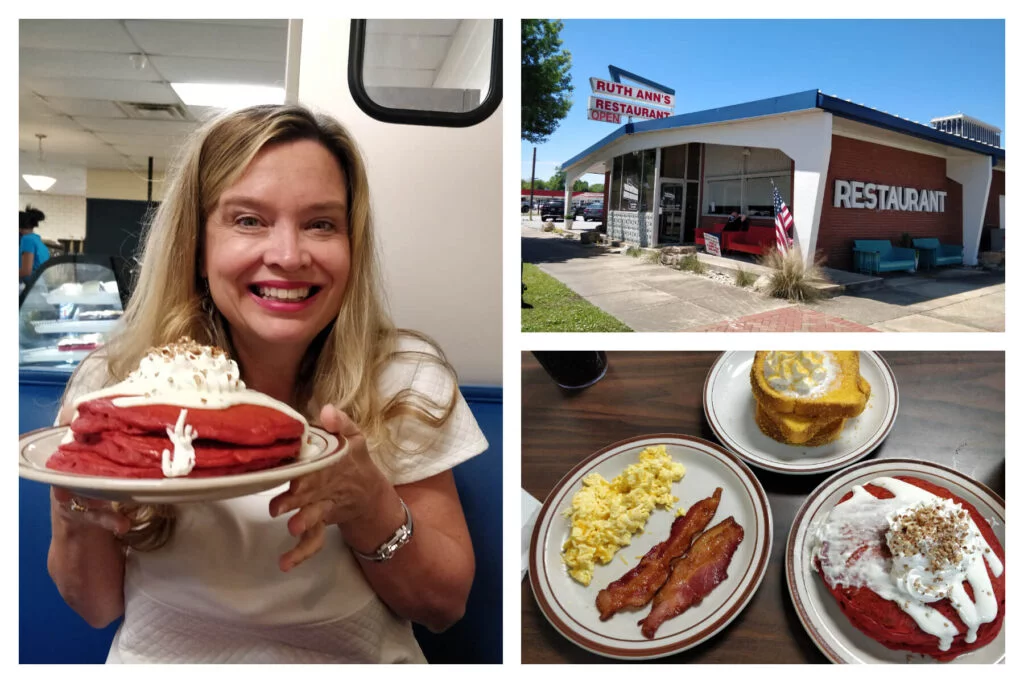 Red Velvet Pancakes at Ruth Ann's [6]

Look how happy Soyia looks!
I had the Red Velvet Pancakes; Fred had the Cap'n Crunch French Toast. We both won. Ruth Ann's is a no-nonsense diner that's been serving breakfast and lunch to Columbusites (ColumbusANS?)) since 1959. It's only open Wednesday through Sunday, so plan ahead.
One more restaurant rec: Ezell's Catfish Cabin, which has locations in Columbus and Phenix City. The blackened catfish was good, the grilled shrimp even better—and Fred couldn't stop raving about his catfish po'boy. [7]Best thing I ever put in my mouth.
FredNotes

↑

1
Watch out, though, this man knows how to drive a deal.

↑

2
I love lunch.

↑

3
They are putting together something special.

↑

4
Be careful when traversing the path in this area, though. Soyia almost got run over by some crazed river people in a van.

↑

5
I washed it down with a couple of Natural Lights because I am classy.

↑

6
Look how happy Soyia looks!

↑

7
Best thing I ever put in my mouth.