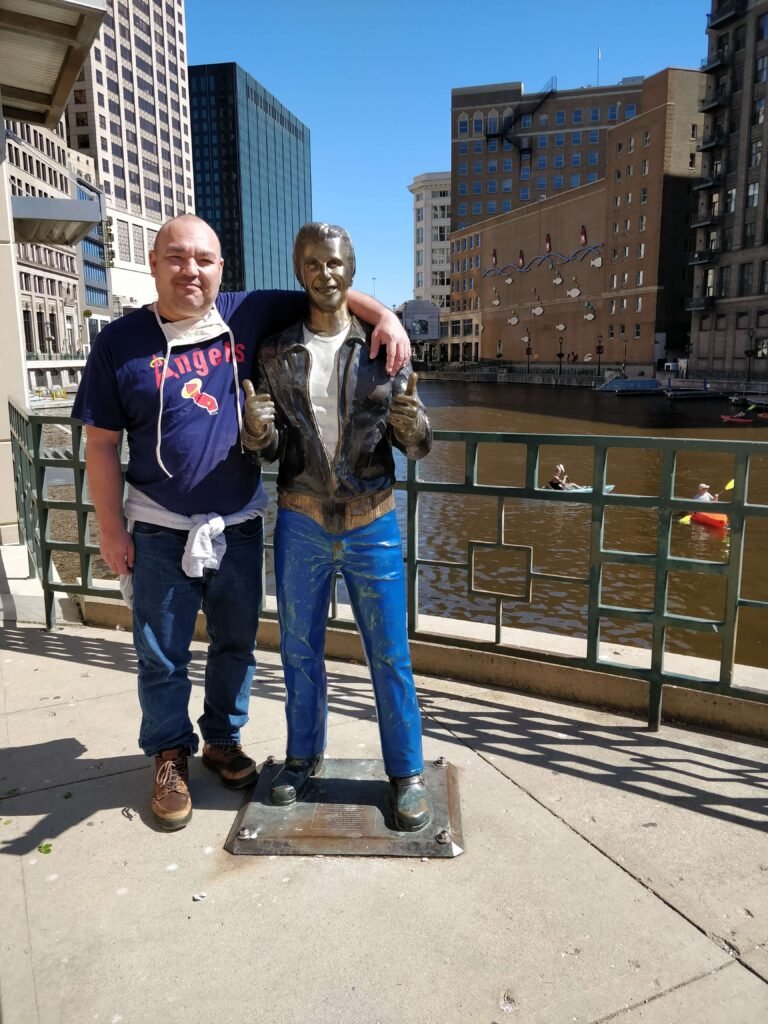 Murals, Sculptures & the Bronze Fonz
On my daily walks around Milwaukee, I was struck by the amount of outdoor art on display.

Whimsical sculptures and candy-colored murals dot the city. Every summer, the nonprofit organization Sculpture Milwaukee brightens the landscape by scattering a new outdoor exhibition throughout downtown and publishing a map to help art aficionados find the new pieces. Milwaukee Downtown also offers a searchable online map that guides visitors to scores of other murals, sculptures, and monuments.

And a 15-minute car ride from downtown will take you to Lynden Sculpture Garden, whose 40 acres are home to more than 50 sculptures by world-renowned artists.

Here are a few of our favorite pieces from our trip: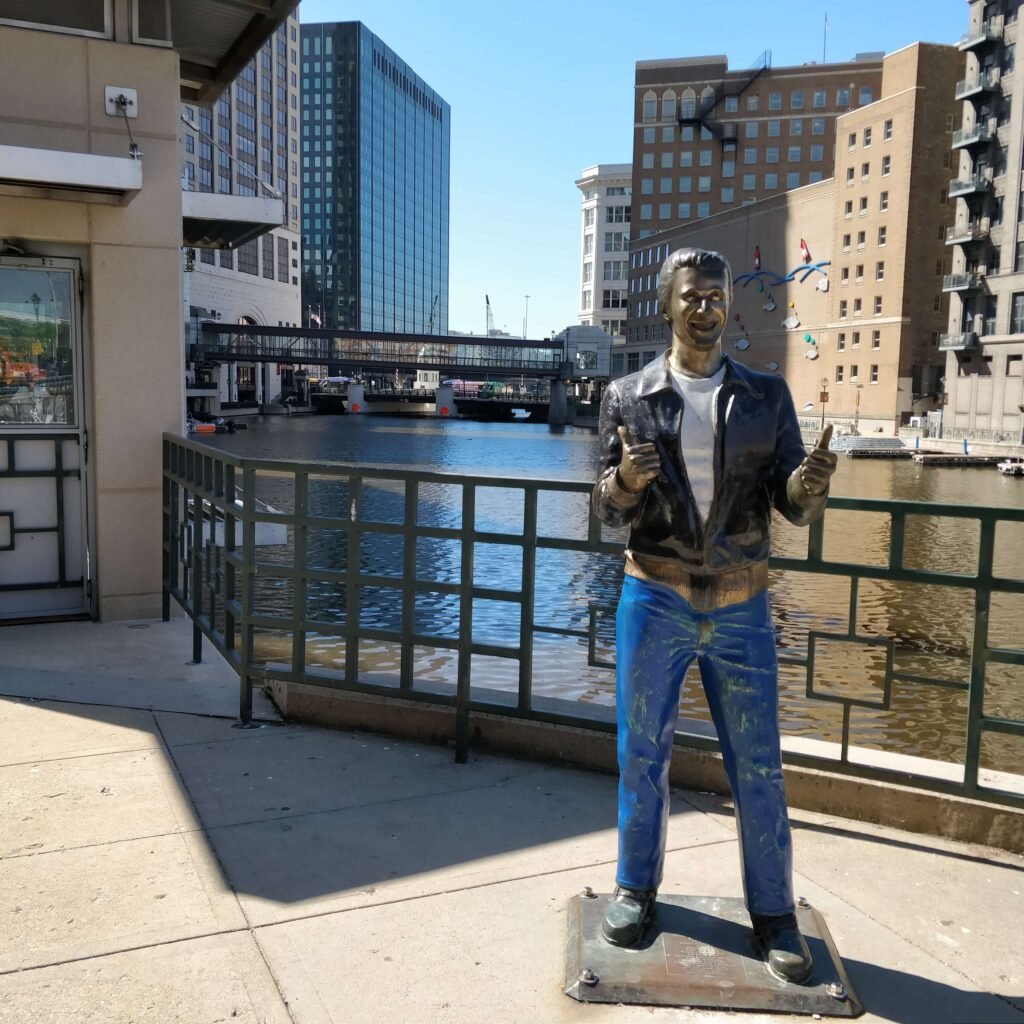 The Bronze Fonz
He's a little creepy, but he's an icon. The Bronze Fonz – undoubtedly Milwaukee's most famous statue – is a likeness of Henry Winkler, who played The Fonz in the Milwaukee-set sitcom "Happy Days." He stands, thumbs pointed up, on the RiverWalk just south of Wells Avenue. (Note that in the background, you can see "Dream with the Fishes," a sculpture mural on the wall of the Reiman Aquarium.)
---
---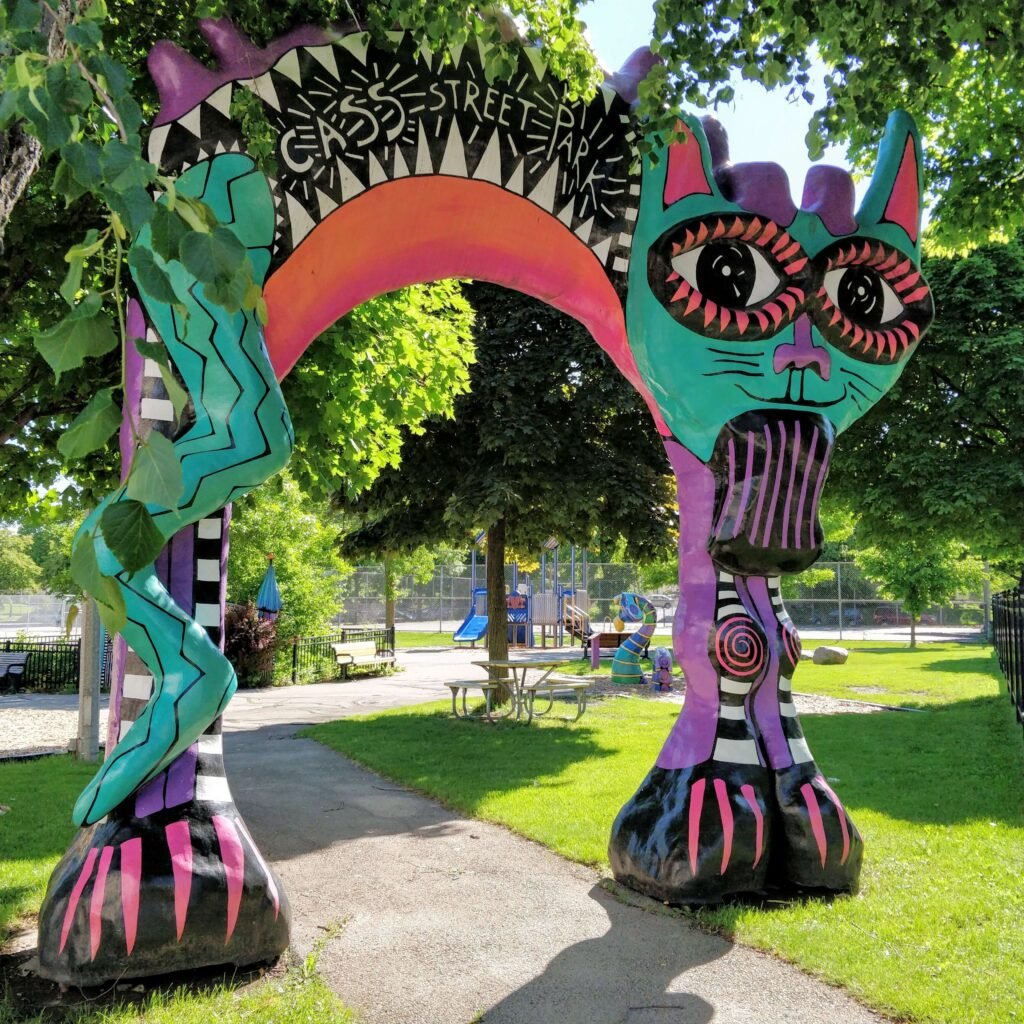 The Cass Street Park Arch
This colorful cat keeps watch over the children of Cass Street Elementary School, who use this small park as a playground, but it's open to all.
---
Featured Post: The Incredible House on the Rock in Spring Green, Wisconsin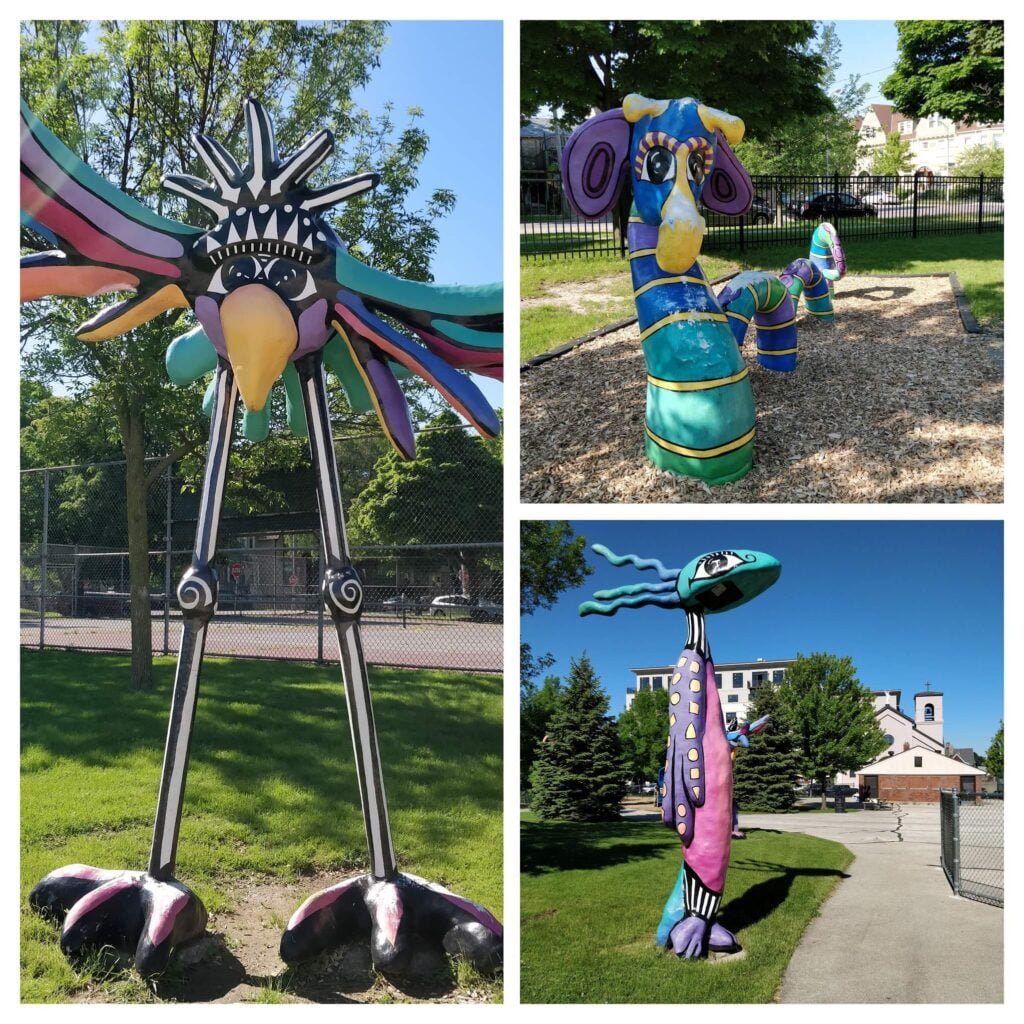 Other Cass Street Park Creatures
Artist Marina Lee created the fanciful fiberglass figures back in 1998 to help revitalize the park, which sits a couple of blocks from the city's infamous party-hearty Brady Street. You'll find it at 1647 N. Cass St., near the intersection with E. Pleasant Street.
---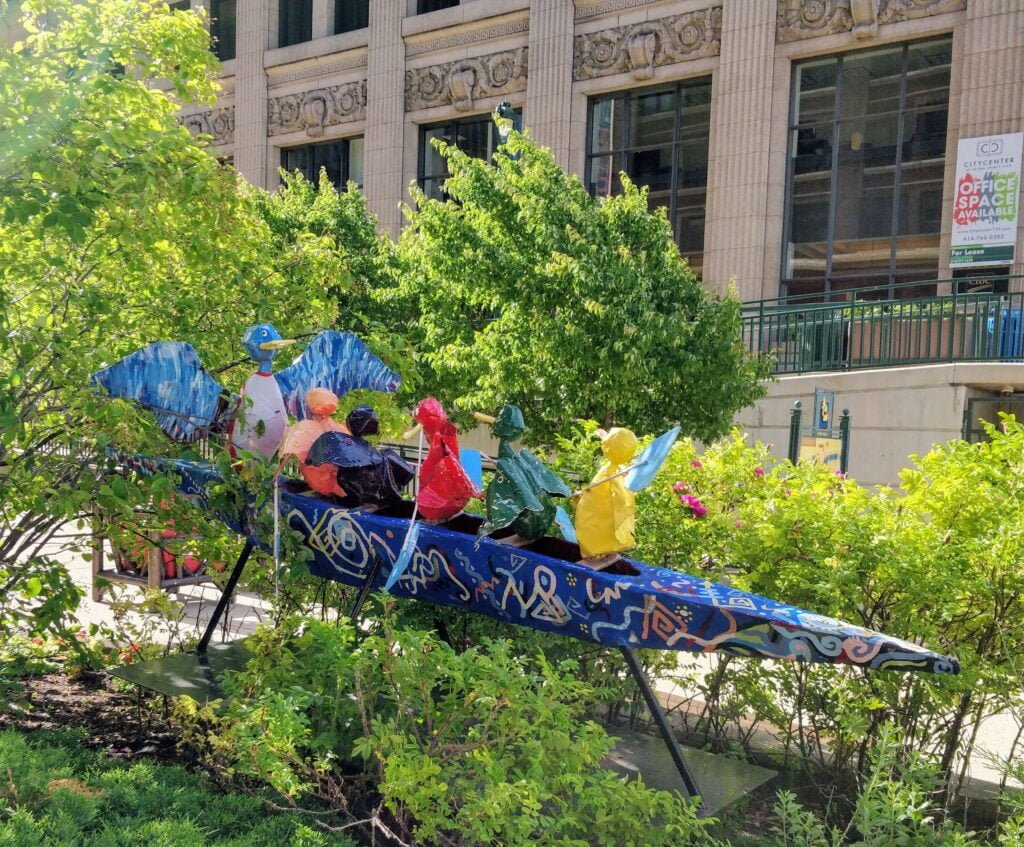 Gertie Gets Her Ducks in a Row
I snapped this photo just because I liked the idea of colorful, rowing ducks. Later, I learned that this piece by Benjamin "Benno" Rothschild is inspired by a fascinating bit of Milwaukee history.
In 1945, a bridge operator discovered that a duck had built her nest on a bridge piling near where this sculpture sits. The Milwaukee Journal wrote a column about Gertie, as it called her, that was picked up by national newspapers.
Soon, she'd become a symbol of hope to a nation reeling from World War II. Thousands – some say millions – came to see her and (eventually) her ducklings, who for a time were kept in a display window at Gimbel's Department Store. Gertie even got her own book and TV series! You can read more about her here, and if you're on the RiverWalk, keep an eye out for the six small bronze statues of Gertie and her brood that are scattered along the waterfront.
---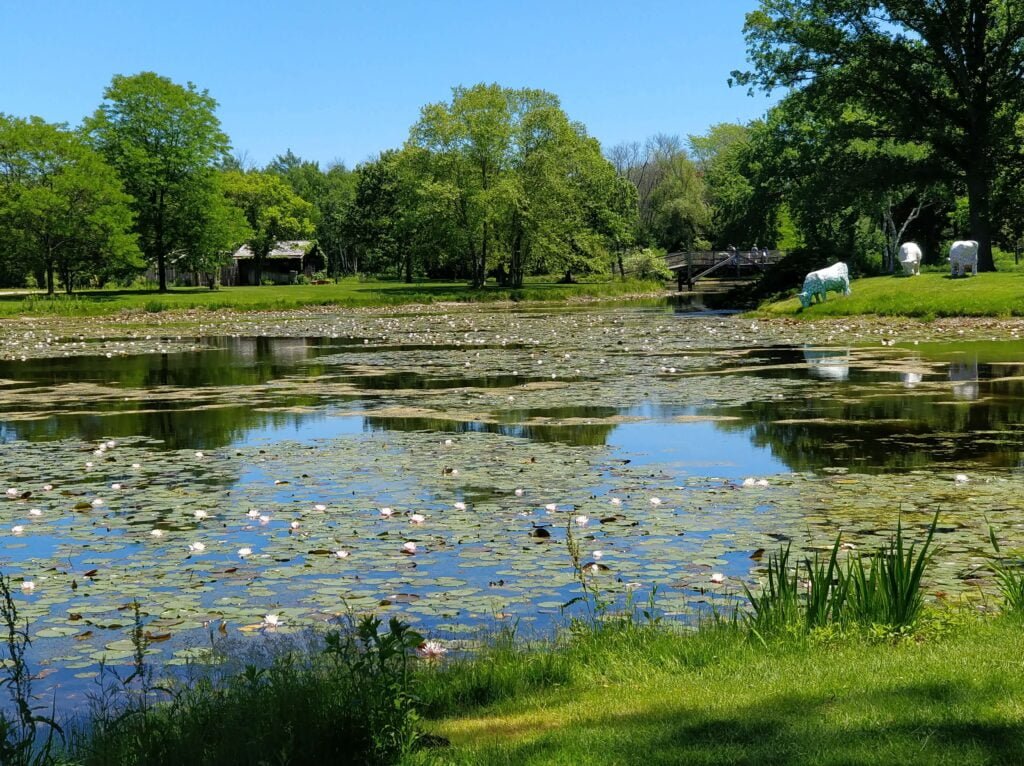 Lynden Sculpture Garden
Lynden Sculpture Garden is the former home of Harry and Peg Bradley. He made his fortune in factory automation; she was an avid art collector. They designed their estate to resemble an English country park, complete with a pond and rustic bridge. Near the bridge, you'll find "Des Vaches, Mo, Ni, Que" by Swiss artist Samuel Buri.
---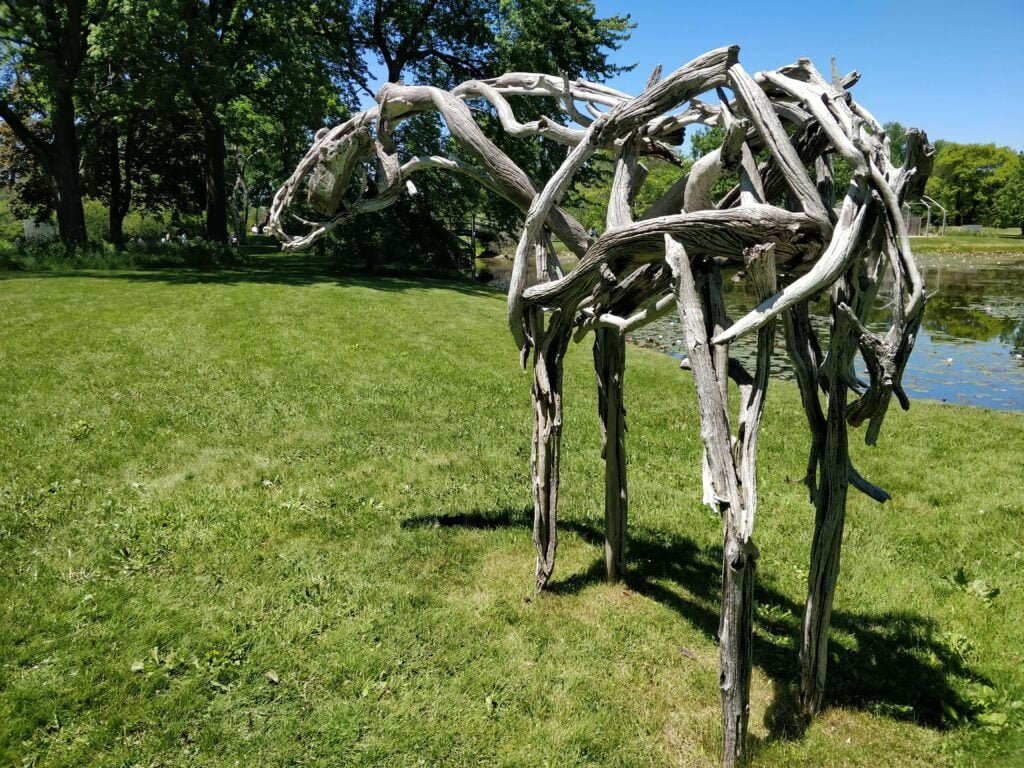 Hara
"Hara," a horse that looks like it's made of wood but is actually made of bronze, is by American artist Deborah Butterfield. (You can find a similar piece by Butterfield at the Booth Museum of Western Art in Cartersville, Georgia.)
---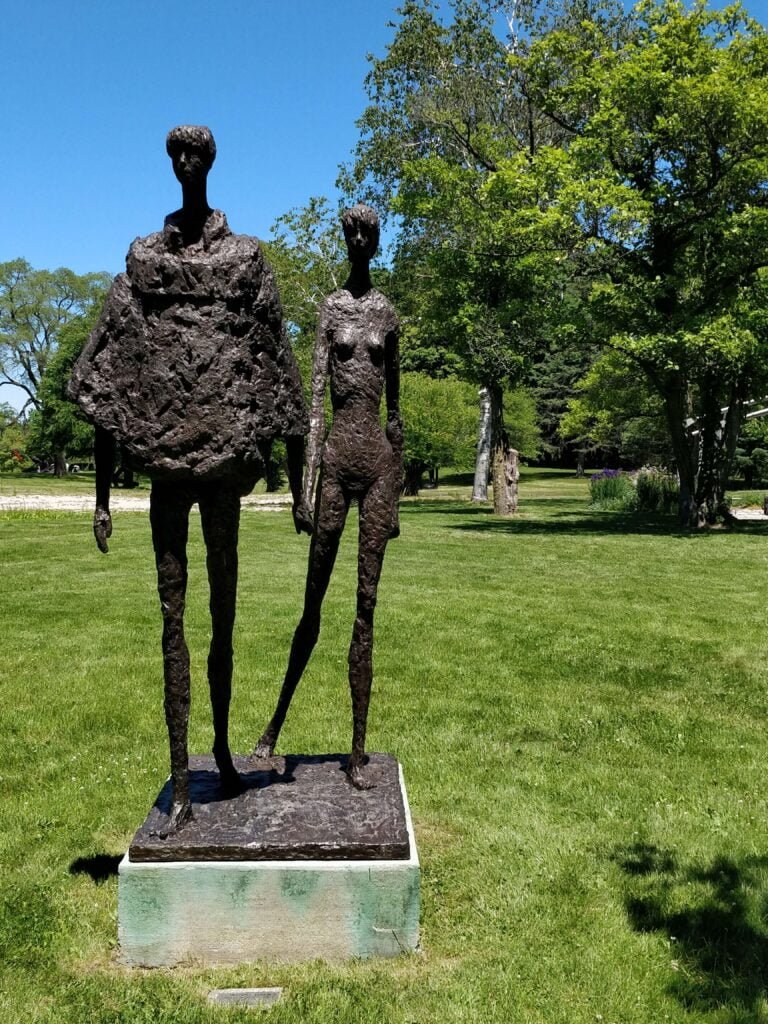 The Lovers
"The Lovers" by Lindsay Daen of New Zealand. During the pandemic, Lynden is open for free socially distanced walking and gawking from 10 a.m. to 4 p.m. every day but Thursday.
---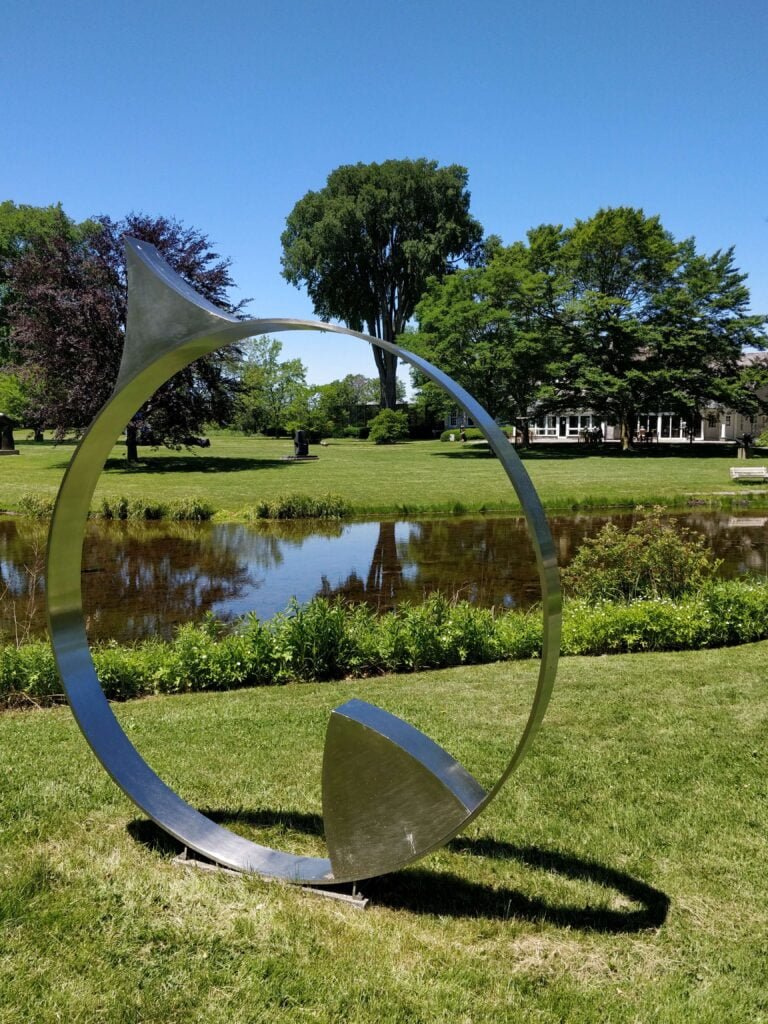 Way Four
"Way Four" by New York artist Bernard Kirschenbaum. In normal times, admission to Lynden is $9 for adults and $7 for children and includes access to the home, special exhibitions, and docent-led walking tours.
---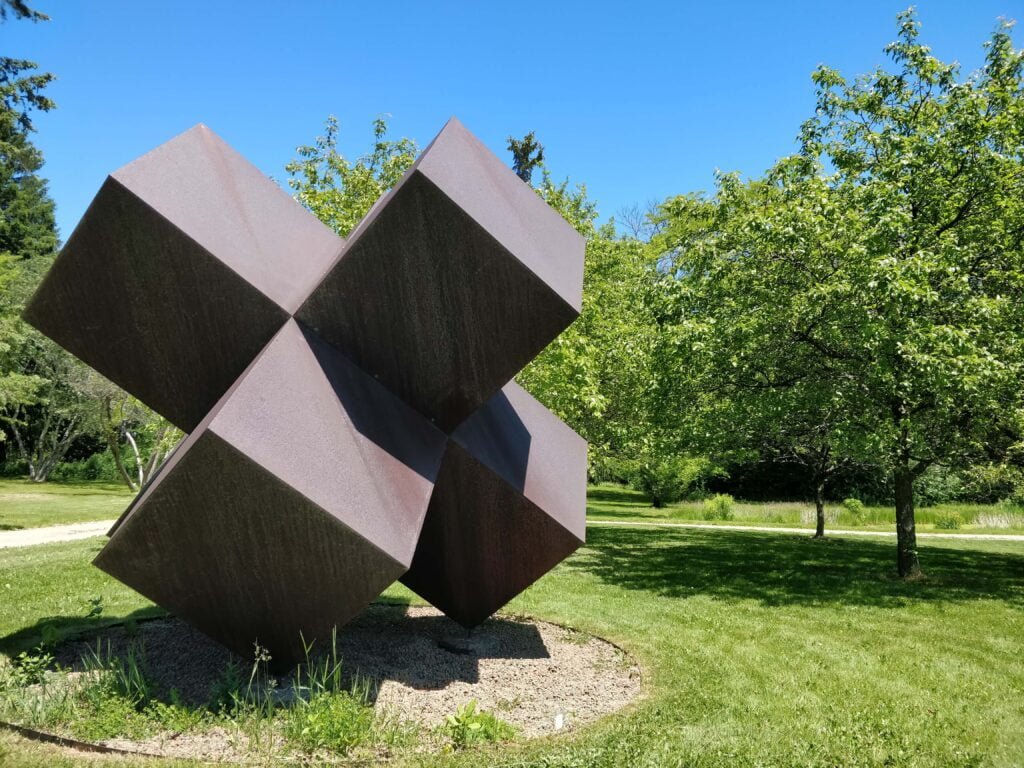 Salem No. 7
"Salem No. 7" by former U.S. Marine Antoni Milkowski. Lynden offers art- and nature-themed workshops – mostly virtual for now – throughout the year.
---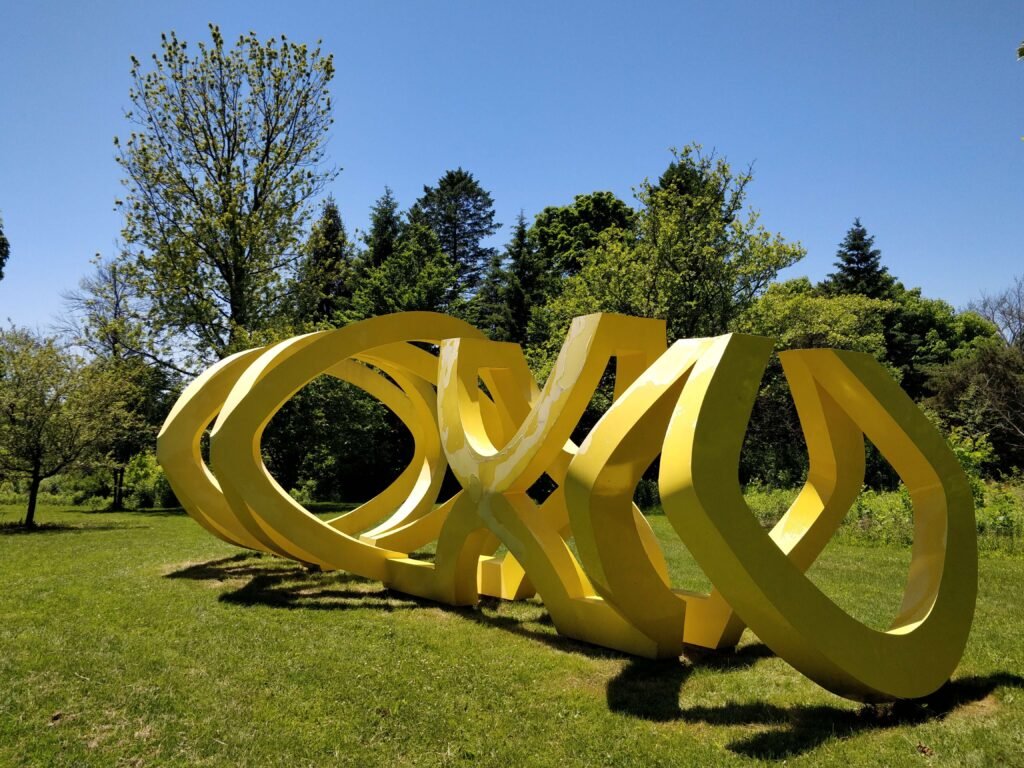 Trio
"Trio" by George Sugarman, an American artist who pioneered pedestal-free sculptures. You can find directions to Lynden Sculpture Park, which is situated in the suburbs off Brown Deer Road, here.
Featured Post: Cassadaga, Florida's Kooky, Spooky Little Town