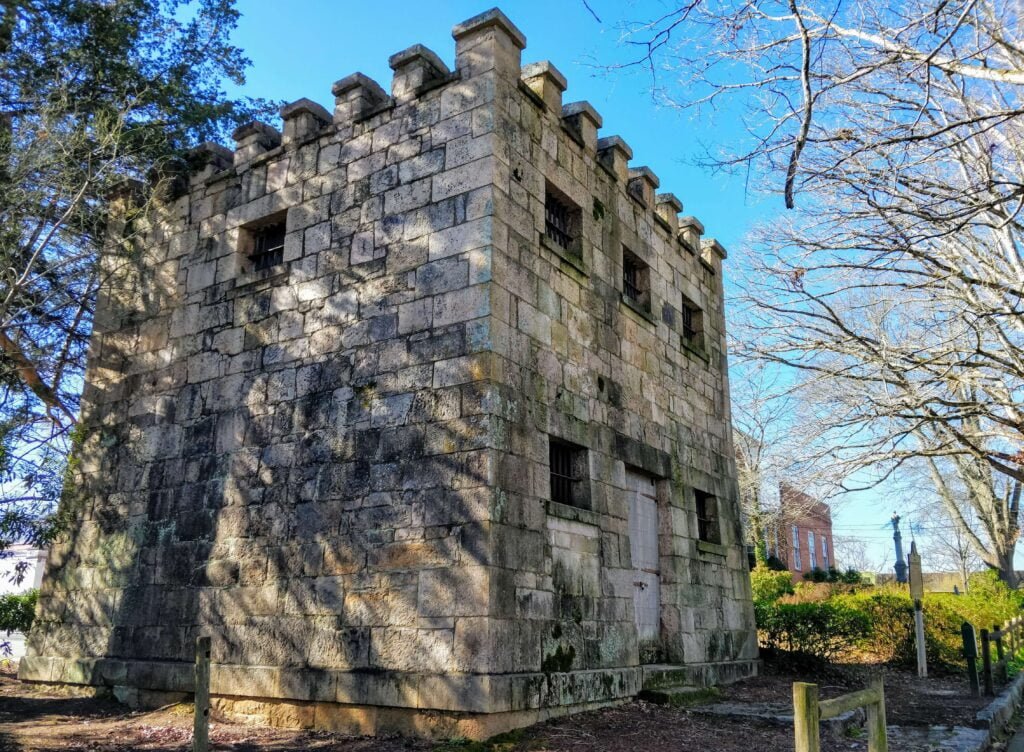 Go Directly to 'Gaol'
There have been two hangings in the Old Greene County Gaol, but just one death.
In November of 1873, when the sheriff sent convicted murderer George Copeland crashing through the trap door, the rope broke, and Copeland plunged to the floor. So what did the sheriff do? He hauled the poor man back up the stairs and hanged him again.
It's a sad but fascinating bit of Georgia history in a building that looks like it was plucked straight out of Europe's Middle Ages.
In actuality, Greensboro's "gaol" was built in 1807. It borrowed its look from French bastilles and its spelling from British English. The jail's walls are two feet thick, built from granite mined in a nearby quarry.
---
Room with a View
If you'd committed a nonviolent crime, you were put upstairs, where at least you had a small window for light and ventilation.
According to the woman who gave us the key to the jail (more about that in a minute), one prisoner who murdered his wife also got to stay upstairs. Apparently he had great handwriting, so they branded his thumb with an "M" and had him serve out his sentence transcribing court documents. A letter he wrote is on display in one of the cells.[1]Terrible penmanship in my opinion
---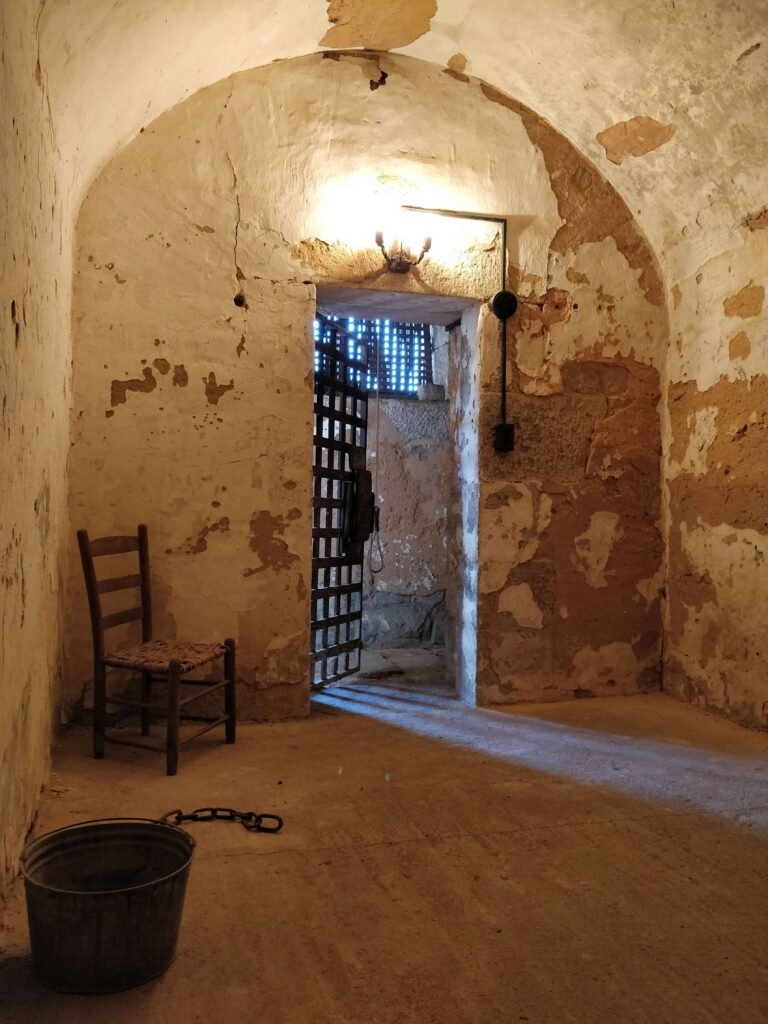 Downstairs Dungeons
Prisoners accused of violent crimes were kept downstairs, where the only light came through the grates in the iron door. They slept on beds made of straw and relieved themselves in tin buckets. If they acted out, they were chained to the wall.
---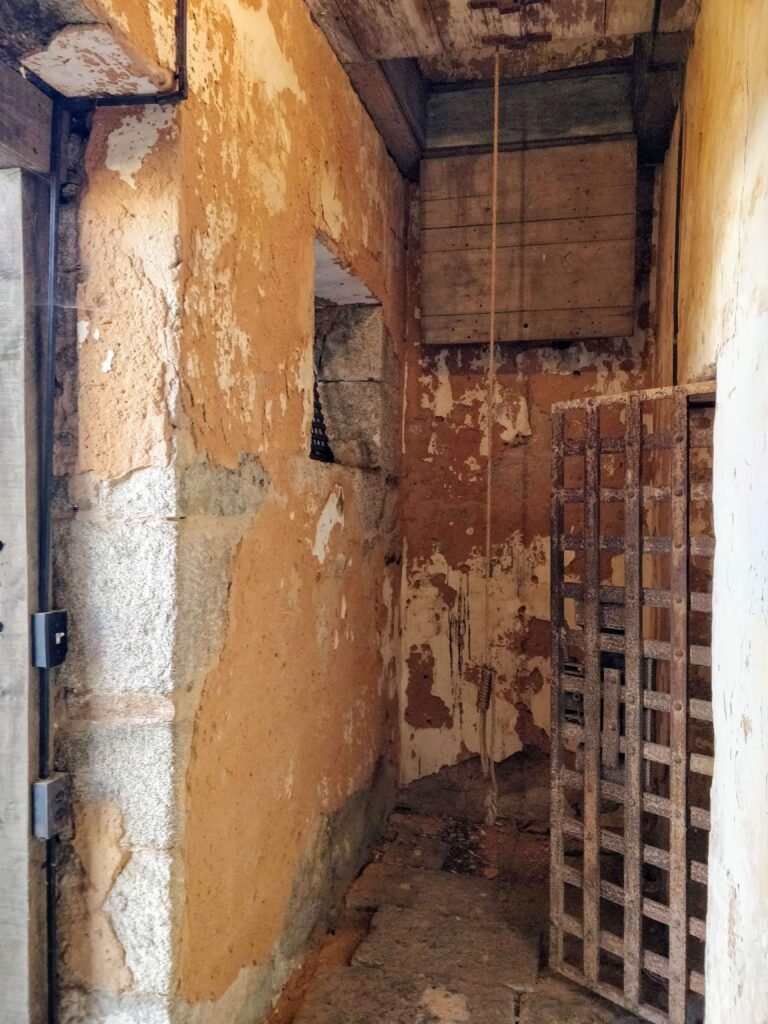 'Launched into Eternity'
Here's the infamous trap door and hangman's rope. According to the rather poetic historical marker outside the jail, "An iron bar supported the trap door. When the signal was given, the hangman pulled the lever that controlled the bar and the culprit was launched into eternity."
Audio information outside the jail says that in the 1870s, the law said prisoners were supposed to go free if a rope broke during their hanging. But in researching this article, I found quite a few stories about people hanged a second time after a botched first attempt. According to this 1868 newspaper article, a man in Austin, Nevada, was hanged three times because the rope broke twice.
---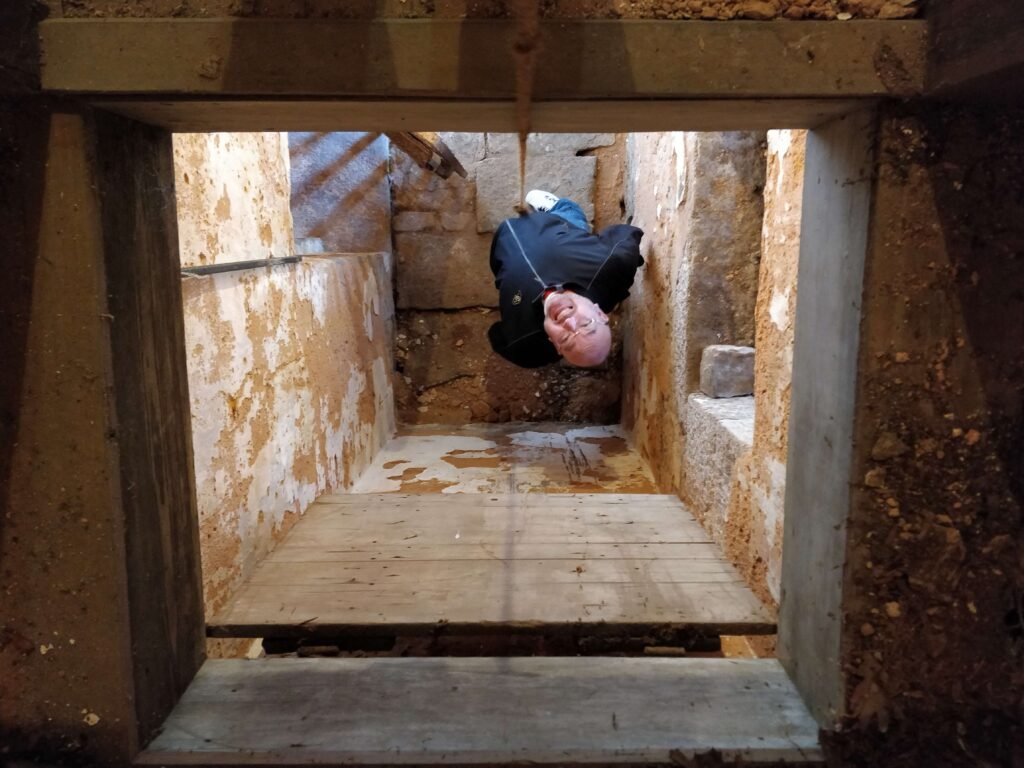 At Your Own Risk
One of the coolest things about visiting the Old Gaol is that you're completely on your own. You get the key from the very nice lady who runs Genuine Georgia, a shop featuring beautiful arts and crafts made by area artisans, and then you walk the block or so to the jail and let yourself in.
A sign just inside the door says "Not Responsible for Accidents, Injuries, or Accidental Hangings." Not sure if that last one is a joke or not…
---
The New Old Jail
The Old Gaol ceased operation in 1895, when the city built this building, which served as both a detention facility and the sheriff's home until 1934. A historical marker outside tells you all about the man for whom the jail is named: Sheriff L.L. Wyatt.
Wyatt started his law enforcement career in 1925 and served as sheriff from 1940 until his death in 1977. He put Greene County's many moonshiners out of business, survived five gunshot wounds, and killed more than half a dozen men, "all of whom shot at him first." Most famously, in 1974, at age 70, he took down two bank robbers who'd managed to elude 100 police cars before running into his one-man roadblock.
FredNotes

↑

1
Terrible penmanship in my opinion