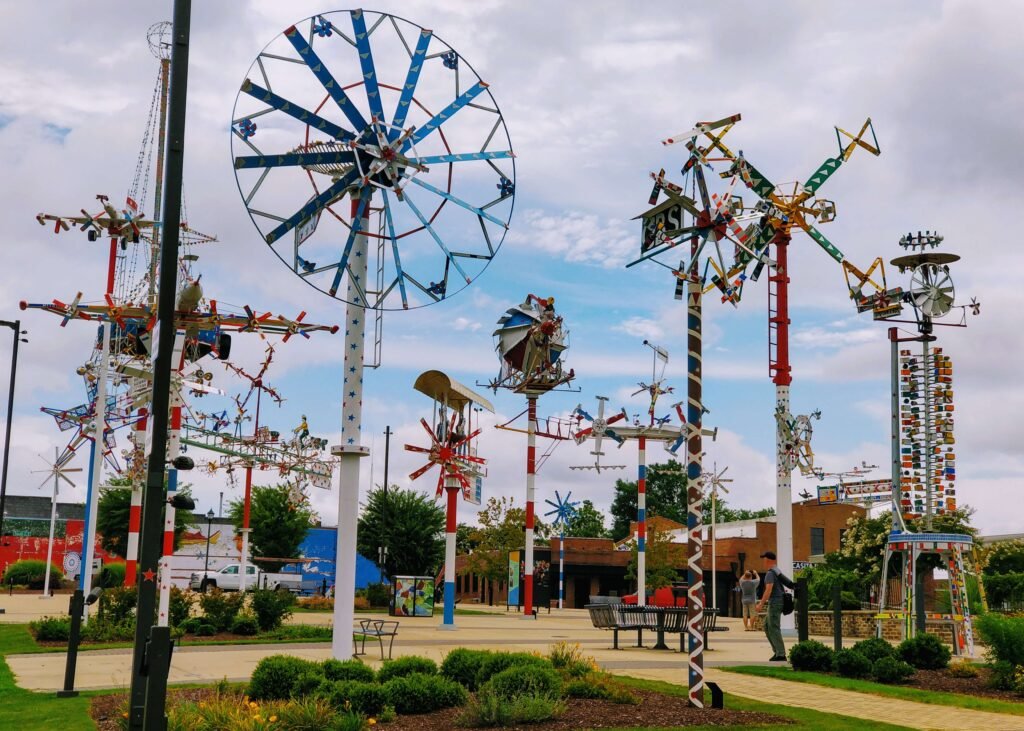 In Which We Take a Quick Whirl Through Wilson's Whirligigs
Before we even finished walking through the Vollis Simpson Whirligig Park in Wilson, North Carolina, I was making plans to come back.
I'd added the park to our agenda at the last minute and only budgeted about 45 minutes for the visit because we had somewhere else to be. Had I known how amazing these creations were, I would've planned a picnic in the park or arranged to spend the night so that we could see the whirligigs lit up after dark.
---
The park's 30 giant "kinetic sculptures," as art world calls them, sprang from the brain and hands of Vollis Simpson, a machinery repairman born in 1919 who started building whirligigs after retiring in 1985. He continued making them until shortly before his death in 2013, the same year the North Carolina legislature designated his work as the state's official folk art.
When the wind blows, Simpson's colorful metal creations start to click and clatter. Plane propellers twirl, duck wings flap, cyclists pedal bikes. Look—there are two lumberjacks sawing a log! A musician strumming a guitar! Mules pulling a covered wagon!
'Windmills'
Vollis Simpson didn't call them whirligigs or kinetic sculptures; he called them windmills. He erected them on his farm about 11 miles outside Wilson, where they caught the attention of passing motorists—and eventually, the art world. He was commissioned to build four whirligigs for the 1996 Olympics in Atlanta (still on display in downtown's Folk Art Park) and his pieces are in museums in Raleigh and Baltimore, among others.
New Uses for Old Things
Simpson learned about machines from his father, who had a house-moving business in addition to his farm—a line of work Simpson continued even after he and some friends started the repair shop. Some of the rigs he used to pry houses from their foundations and relocate them came in handy when he started making 40-, 50-, 60-feet tall whirligigs.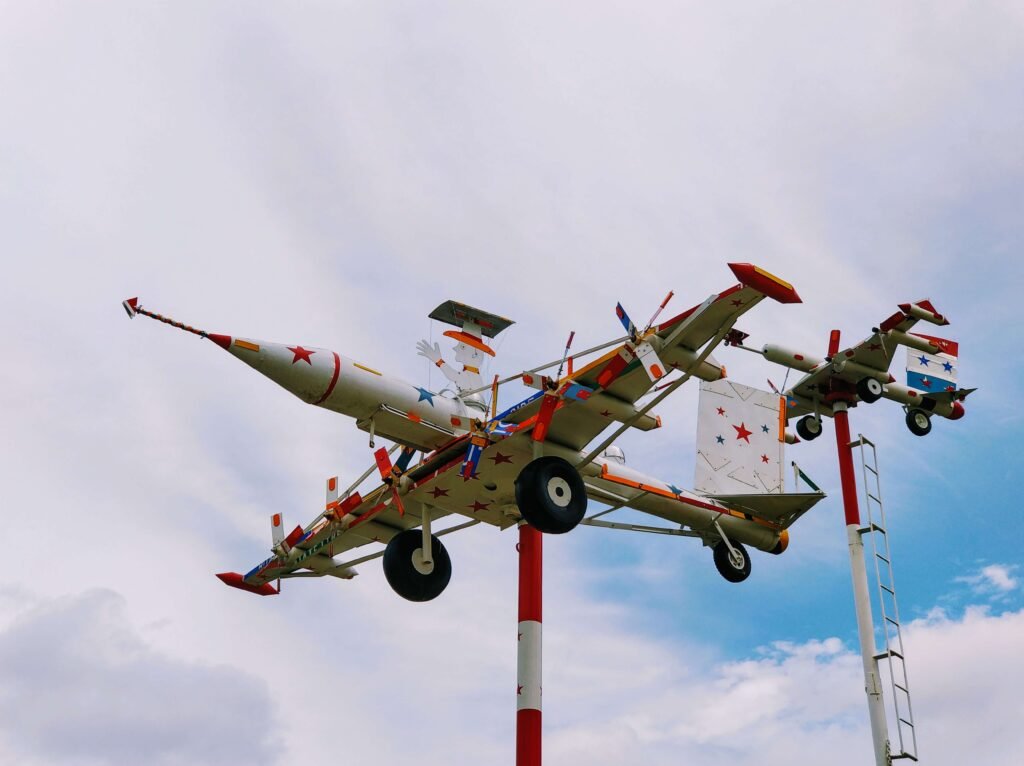 A WWII WInd-Powered Washing Machine
He built his very first "windmill" while serving on the South Pacific island of Saipan in World War II. He used parts from a junked B-29 bomber to make a windmill that powered a washing machine so that he and his fellow service members could keep their uniforms clean. Simpson was in the Army Air Corps, and it's no coincidence that so many of his works include vintage airplanes.
Is It Art?
Simpson's whirligigs, according to the park's website, "incorporate highway and road signs, HVAC fans, bicycles, ceiling fans, mirrors, stovepipes, I-beams, pipe, textile mill rollers, ball bearings, aluminum sheeting, various woods, steel rods, rings, pans, milkshake mixers and many more such materials."
A New York Times reporter once asked Simpson whether he called his whirligigs "art" when he began building them: "Didn't call it nothing," he answered. "Just go to the junkyard and see what I could get. Went by the iron man, the boat man, the timber man. Ran by every month. If they had no use for it, I took it."
Preserving a Treasure
Though Simpson continued to work on his creations well into his 90s, it became difficult for him to keep them maintained. Many began to rust or rot. Thankfully, the people of Wilson had the great good sense to realize what treasures they were, and they raised money to move 30 whirligigs from the farm to a two-acre downtown park. They painstakingly restored each machine and installed special night lighting in the park, "recreating the mystical experience at the original location when car headlights rounded the curve near the Simpson farm."
A Revitalized Downtown
The park had its grand opening in 2017 and is helping to revitalize Wilson's downtown, which had once been home to the world's largest tobacco market but had fallen on hard times. Today, in addition to a small Vollis Simpson museum and gift shop, you'll find some cute restaurants, a brewery (yes, we stopped in for a to-go 4-pack) and quite a few art galleries and studios.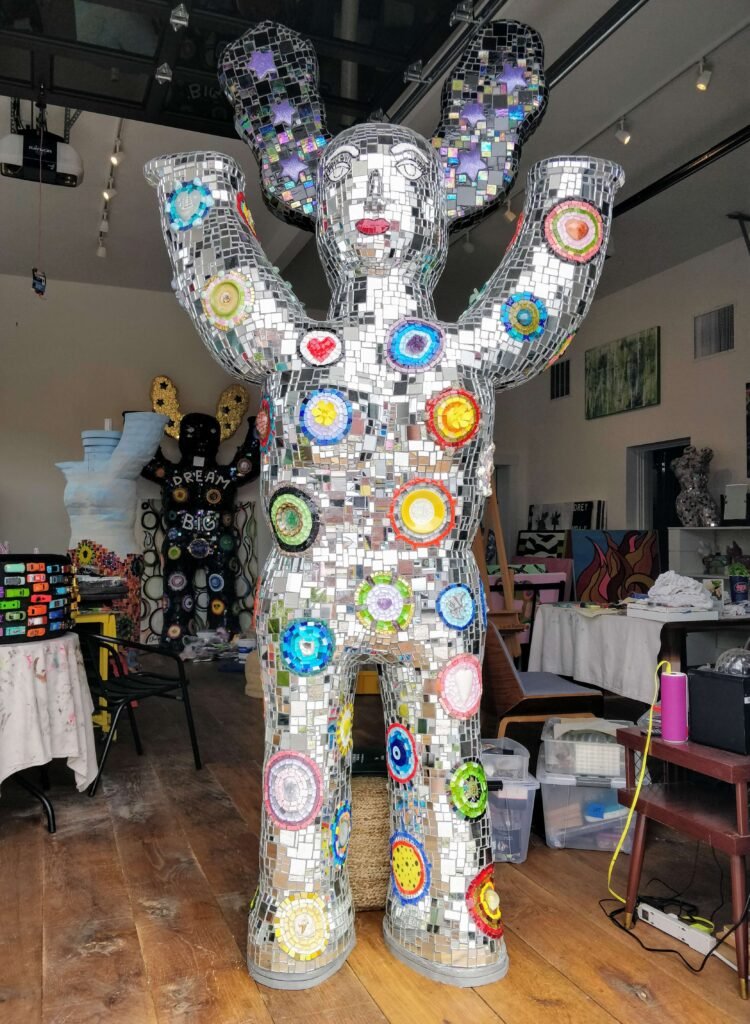 Mirror, Mirror
When I saw this mosaicked monster outside Iconostar Art, we had to pop in for a quick chat with the lovely Elizabeth Laul Healey, the artist and owner. She gave us a long list of recommendations we just didn't have time to check out this time, but we'll be back, Wilson; we'll be back!
---
And Now, For Your Viewing Pleasure, Another Web Story by Fred!