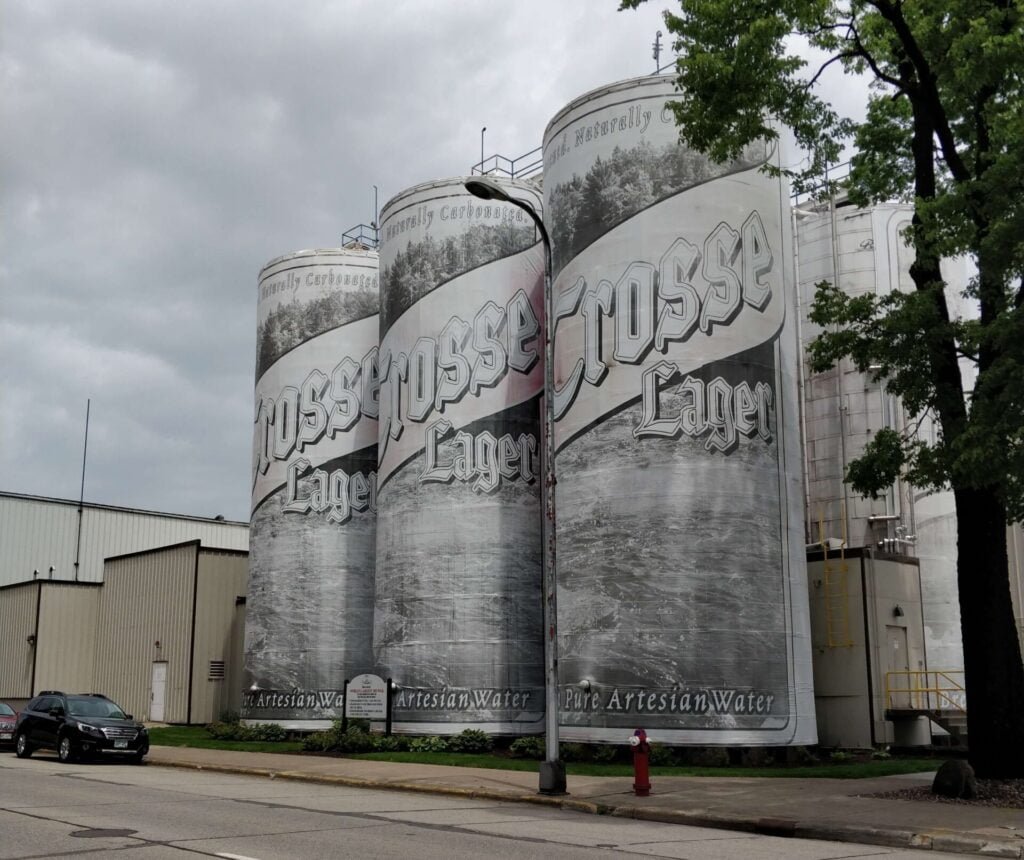 When we discovered we'd be passing within 30 minutes of the World's Largest Six-Pack, we had no choice but to detour.
Beer and the world's largest something? We're in!
These six giant tanks in La Crosse, Wisconsin, hold 688,200 gallons of beer, according to Atlas Obscura, enough that one person could drink a six-pack a day every day for 3,351 years before running out. [1]I'm ready and willing to accept this challenge.
A Six-Pack Since Sixty-Nine [2]

Nice
No one knows who came up with the idea of painting the tanks to resemble cans. At the time—1969—G. Heileman Brewing Company owned the plant and gave the tanks its Midwest-famous Old Style label. (That's right: Old Style may be "Chicago's Beer," but it started life in La Crosse.)
---
Today the six-pack belongs to City Brewery, a contractor that mostly produces beer for other companies. The six-pack's fading labels now read "La Crosse Lager." The brewery is right downtown, and if you're driving with the windows down, your nose will let you know you're getting close. The sickly-sweet smell of fermenting beer pervades the nearby blocks.
Across the street from the six-pack, there's a statue of King Gambrinus, a mythological European character celebrated for his love of beer and life. Unfortunately, construction kept us from getting close enough for a photo.
Burrito Alert!
If you visit La Crosse, we highly recommend Burritos House, a no-frills joint that serves four things: tacos, tortas, quesadillas, and burritos. As former Californians, we can attest that this place is legit.