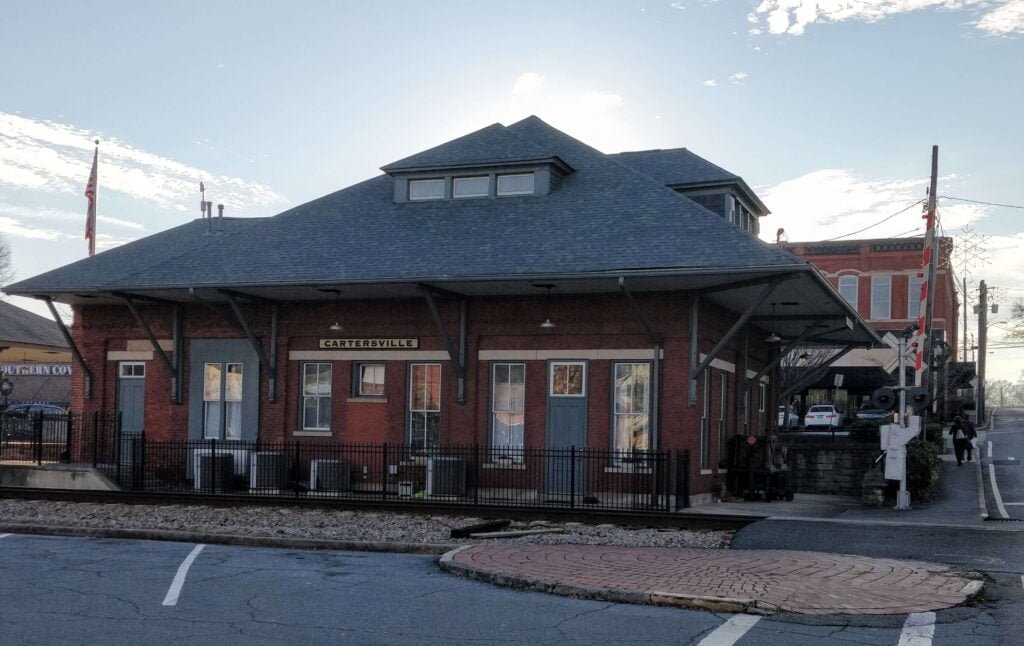 Whenever we head north out of Atlanta on I-75, we pass a sign telling us the Booth Museum of Western Art is up ahead.
"What's that about?" I wondered on many trips. "Why is there a museum devoted to Western art in the Southeast?"
And then we'd keep driving.
In late December, we decided it was time to investigate and set out on a daytrip to Cartersville, Georgia.
Cartersville sits about an hour outside downtown Atlanta (depending on traffic, of course) and is home to nearly 20,000 people. A railroad town first incorporated in 1850, Cartersville still boasts its original train depot, which managed to survive the Civil War and today serves as a welcome center.
---
Downtown Cartersville remains surprisingly vibrant, its red-brick buildings home to upscale boutiques and restaurants as well as businesses that appear unchanged since the 1950s. But be warned—trains still rumble through regularly, meaning you're liable to find yourself stuck in at least one traffic jam.
Just a couple of blocks from the historic downtown you'll find the ultra-modern Booth Museum, built in 2003. Made of white limestone and glass, its sleek, angular exterior looks as if it's been plucked from some big city and planted here. It is so big—120,000 square feet—and has so many interesting things inside that we decided it needed its own post. Click here to see some of the museum's coolest art and fascinating historical artifacts.
In this post, we'll take you to the ancient Etowah Indian Mounds and show you a few of downtown Cartersville's interesting sites—including Coca-Cola's first painted wall sign—and give you a taste of the town's newest brewery.
---
Etowah Indian Mounds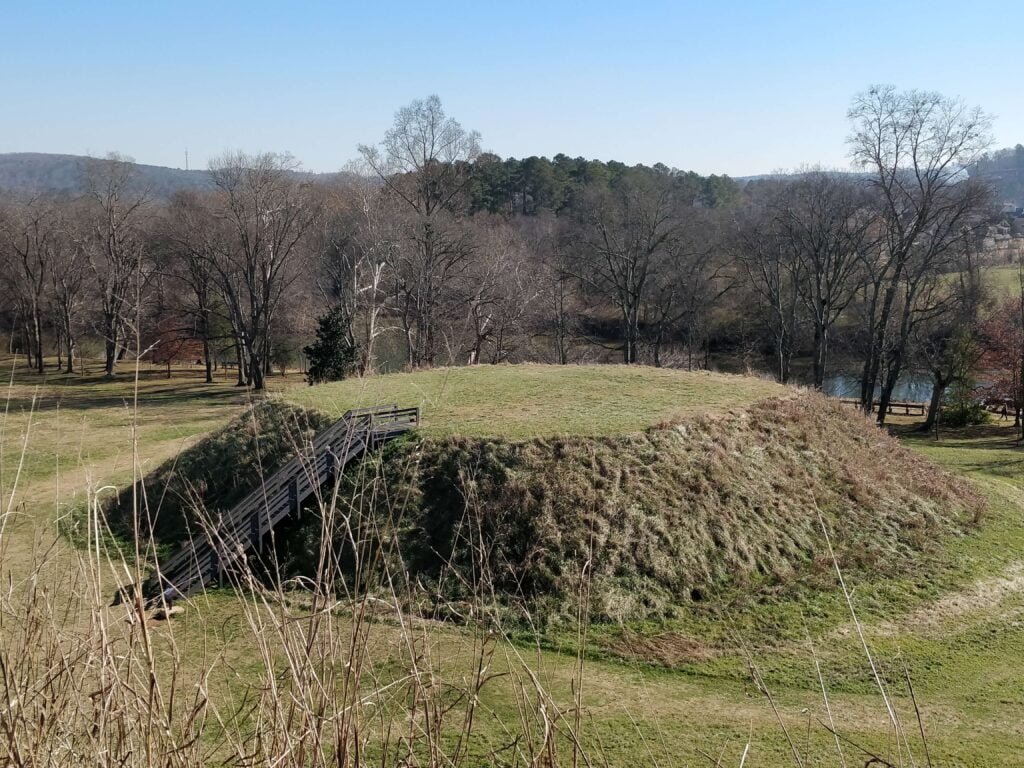 An Ancient Civilization
From about 900 to 1,550 A.D., thousands of Native Americans lived on a 54-acre site along the Etowah River about eight miles outside of Carterville. They built a bustling village with a plaza, agricultural fields, a defensive ditch, and six earthen mounds – three of which still remain or have been re-created. Today, it's an official state historic site, open to visitors for a $6 fee. Budding Indiana Joneses will enjoy learning about the magnetic surveying and other high-tech methods archeologists used to determine what this place used to look like.
---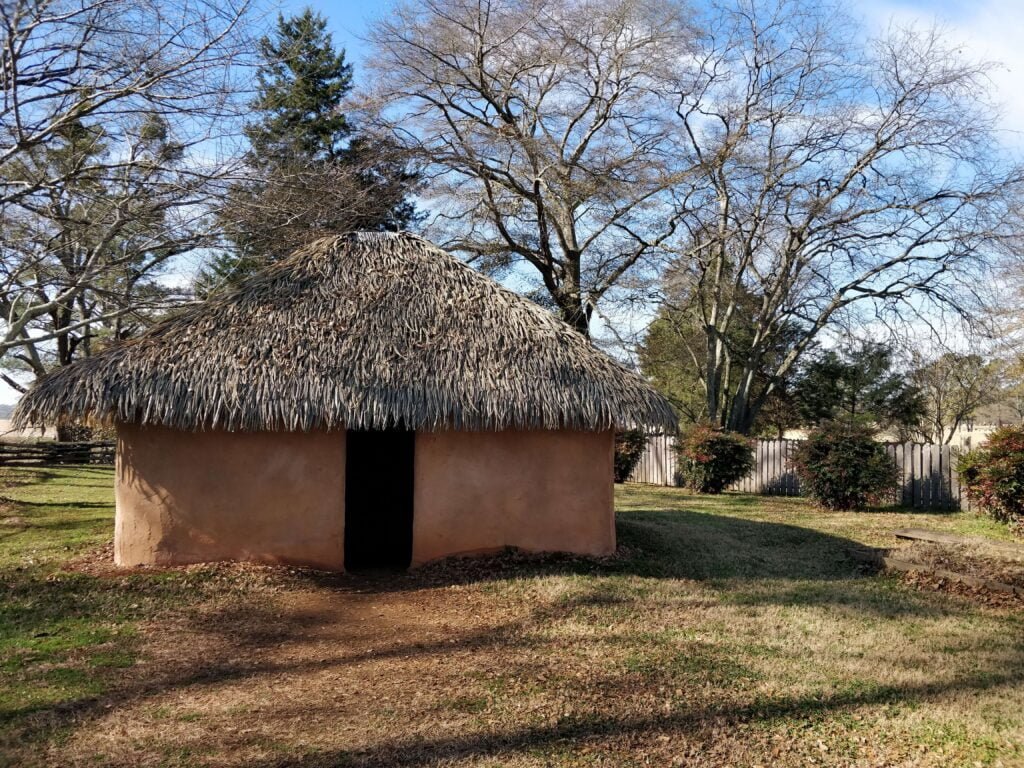 Wattle and Daub House
There's a small museum featuring unearthed artifacts and a film that tells you about the people who once lived here. (Sadly, most of them died of smallpox and measles, which were introduced by Spanish explorers in the mid-1500s.) Outside, there's a replica of a wattle and daub house like those that many of the Native Americans would have lived in.
---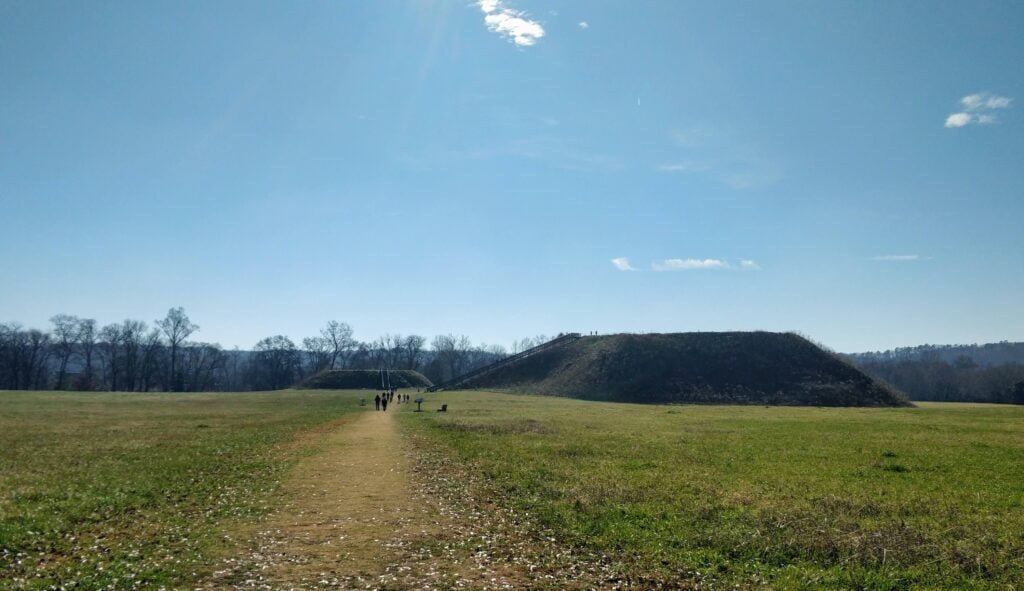 The Temple Mound
Mound A – or the Temple Mound – is the largest of the three, looming 63 feet above the earth. This is where the chief lived and presided over ceremonies in the plaza below.
---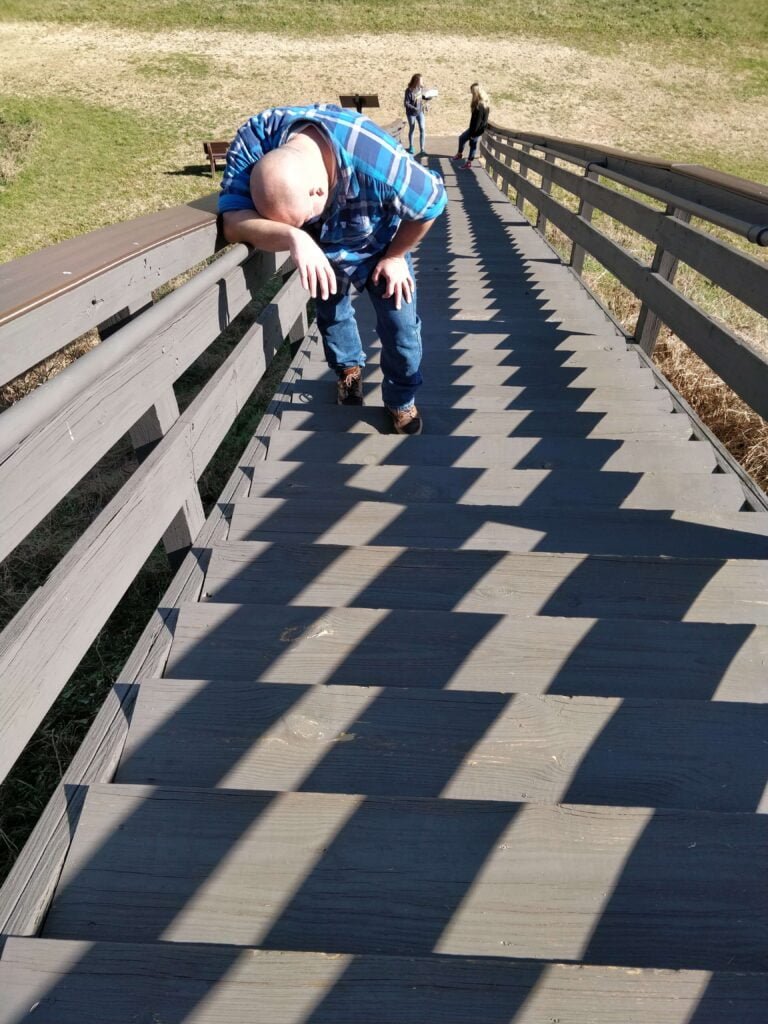 Must…Keep…Climbing
You know who wouldn't have wanted to be chief? Fred, who felt every one of the 131 steps to the top. [1]If you want to see my reward for climbing to the top, scroll to the end of this post.
Featured Post: Cassadaga, Florida's Kooky, Spooky Little Town
---
Downtown Cartersville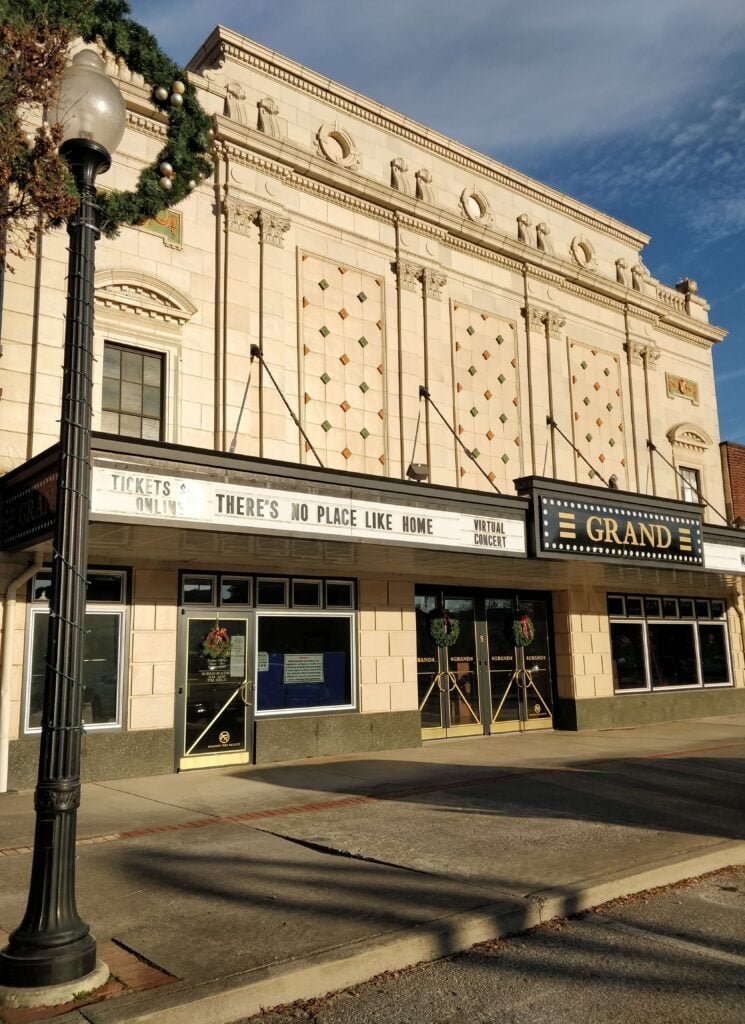 Grand Theatre
I love old theater marquees and never pass up a chance to take a picture of one. This is Cartersville's Grand Theatre, which started life in 1910 as an 800-seat opera house. Since then, there have been fires and name changes, closures and renovations. Today the Grand is a venue for the performing arts, with a marquee reminiscent of its 1930s Art Deco heyday.
---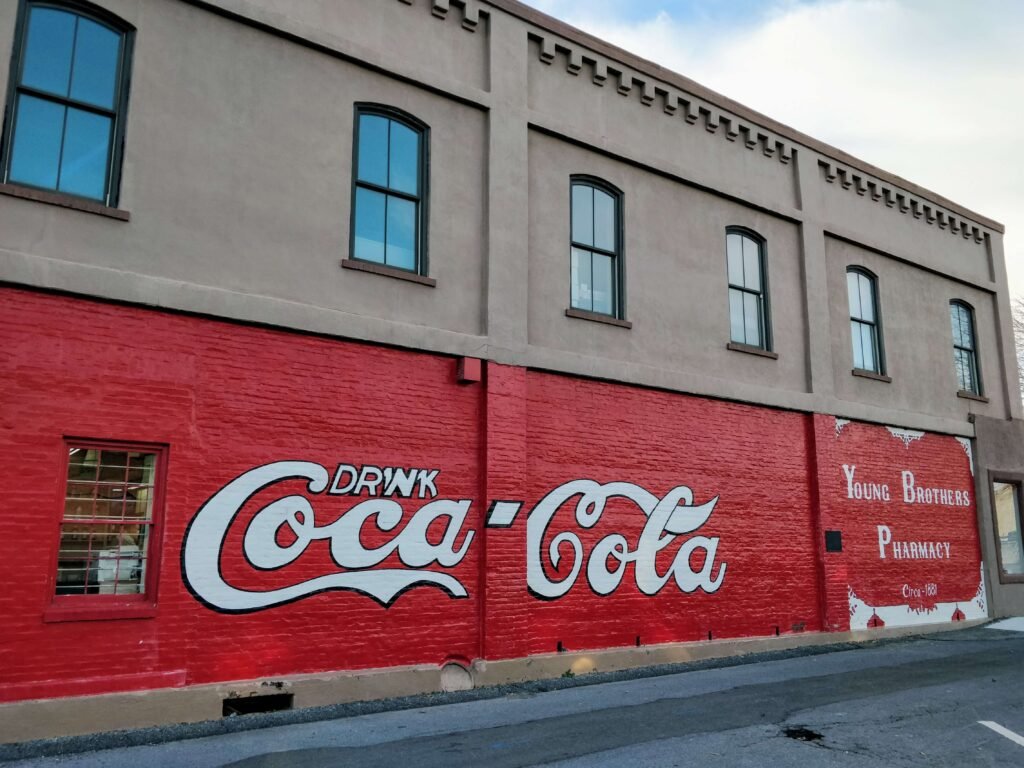 World's Oldest Coca-Cola Wall Sign
Way back in 1894, just eight years after Dr. John Pemberton sold his first glass of Coca-Cola, a young syrup salesman painted the world's first Coca-Cola wall sign on Cartersville's Young Brothers Pharmacy. The 100-foot-long wall is visible from the train depot, making it a prime advertising spot. Over the years, it was painted over again and again, but in the 1980s, the pharmacy's owner worked with restorationists to remove 25 layers of paint to uncover and restore the original sign. If you look closely, you'll see it appears the original artist forgot the "i" in "Drink" and had to squeeze it in later.
---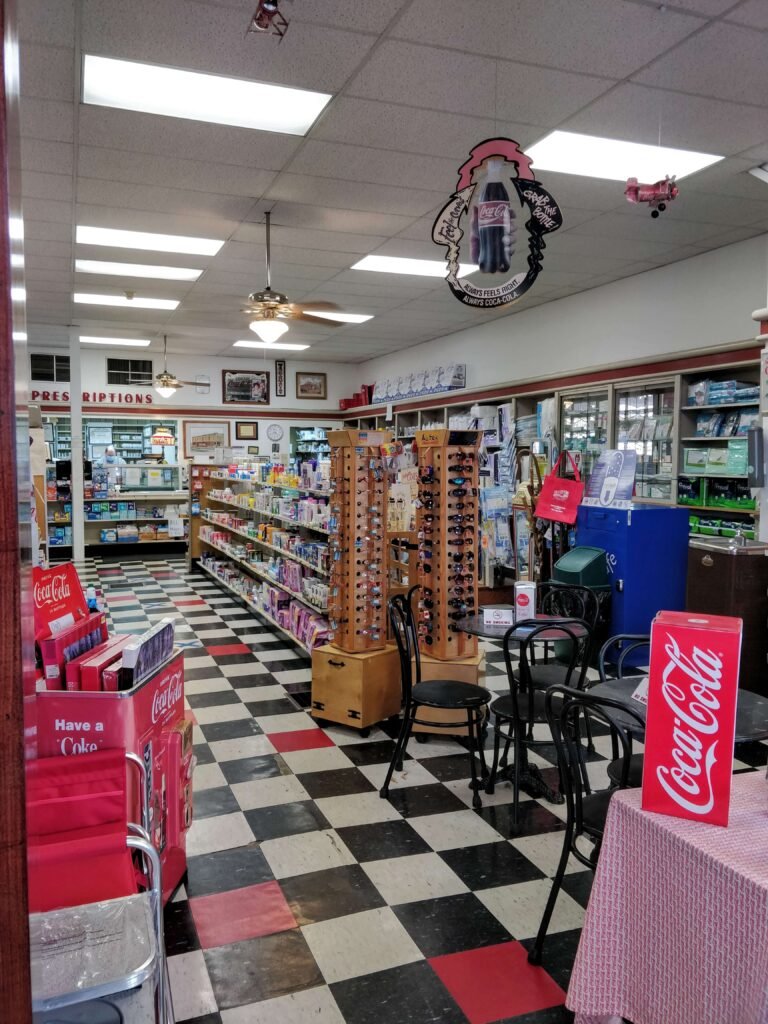 Young Brothers Pharmacy
Stepping into Young Brothers Pharmacy is like stepping onto a 1950s movie set. With its black-and-white floor tiles and old-fashioned pharmacist counter – and plenty of Coca-Cola memorabilia, of course – it's out of time in the best possible way.
---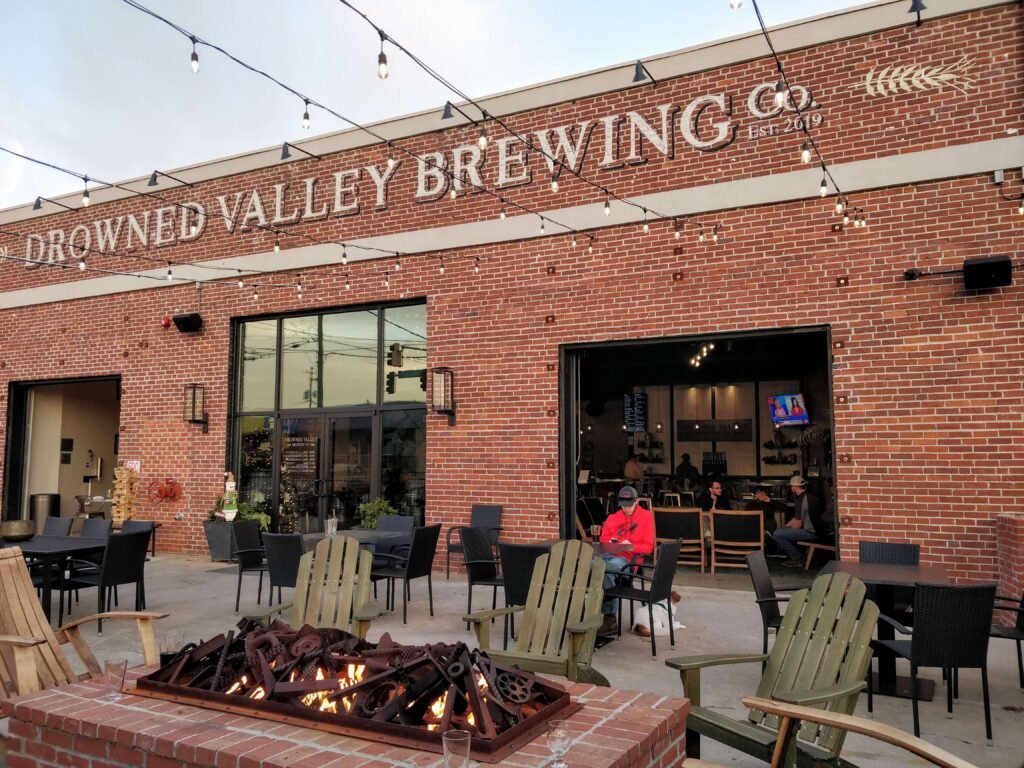 Drowned Valley Brewing Co.
We couldn't resist grabbing a quick pint at Cartersville's newest brewery, Drowned Valley Brewing Co. Our beers were a little on the warm side, but we appreciated the hip indoor-outdoor space, complete with firepits, cornhole sets, and bar shuffleboard.
---
Fred's Foto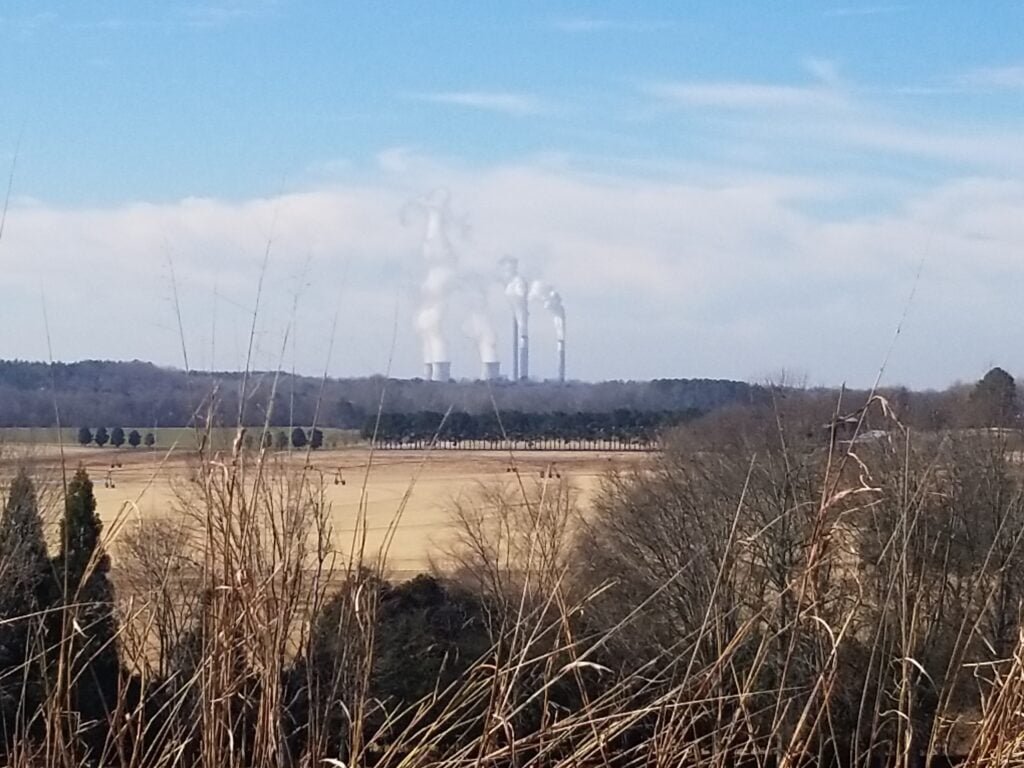 Just wanted to share the view from the Temple Mound. I thought it was a nuclear plant, but it turns out to be just a run-of-the-mill power plant. THE TOTAL NATIVE AMERICAN EXPERIENCE!
Featured Post: The Incredible House on the Rock in Spring Green, Wisconsin
FredNotes

↑

1
If you want to see my reward for climbing to the top, scroll to the end of this post.