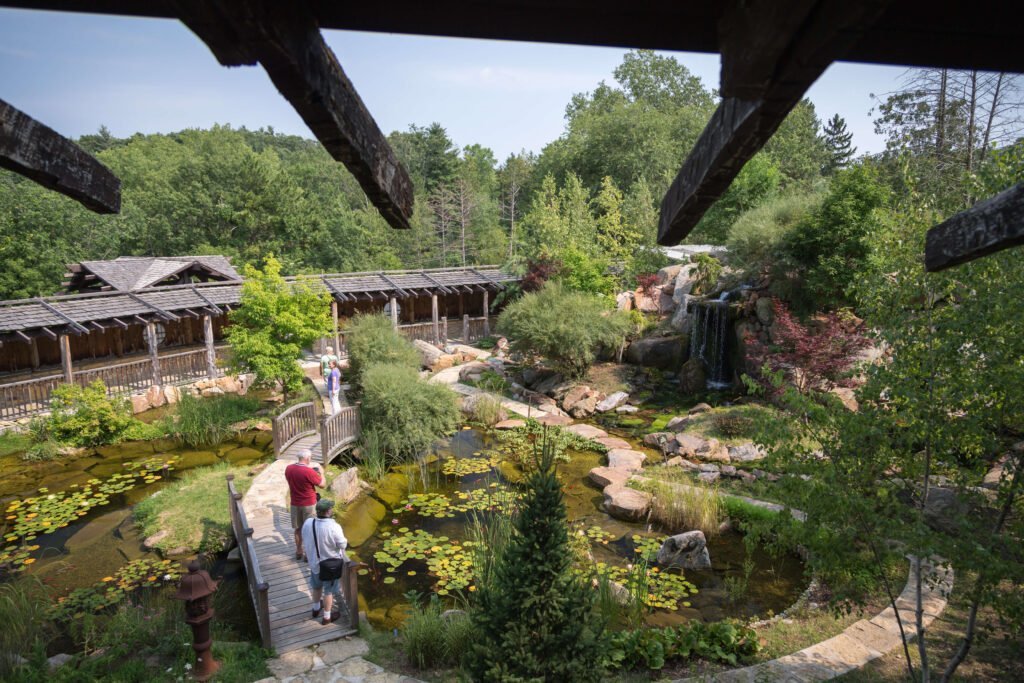 In early 2018, we attended a sneak preview of the Season 2 premiere of "American Gods," filmed at House on the Rock in Spring Green, Wisconsin.
Midway through the screening, I leaned over to Fred and whispered, "I want to go to there."
I finally got the chance more than two years later, and I was not disappointed.
How to describe House on the Rock? The word "bonkers" comes to mind. So do the words "fever dream" and "mad genius."
The mad genius was Alex Jordan, a college dropout who learned the basics of construction while working for one of his father's businesses. Jordan fell in love with a 60-foot rock towering above Spring Green, about an hour from Madison. He bought the rock and the land surrounding it, and in 1945, began building a weekend retreat at its summit, hauling stones up the cliff in baskets on his back.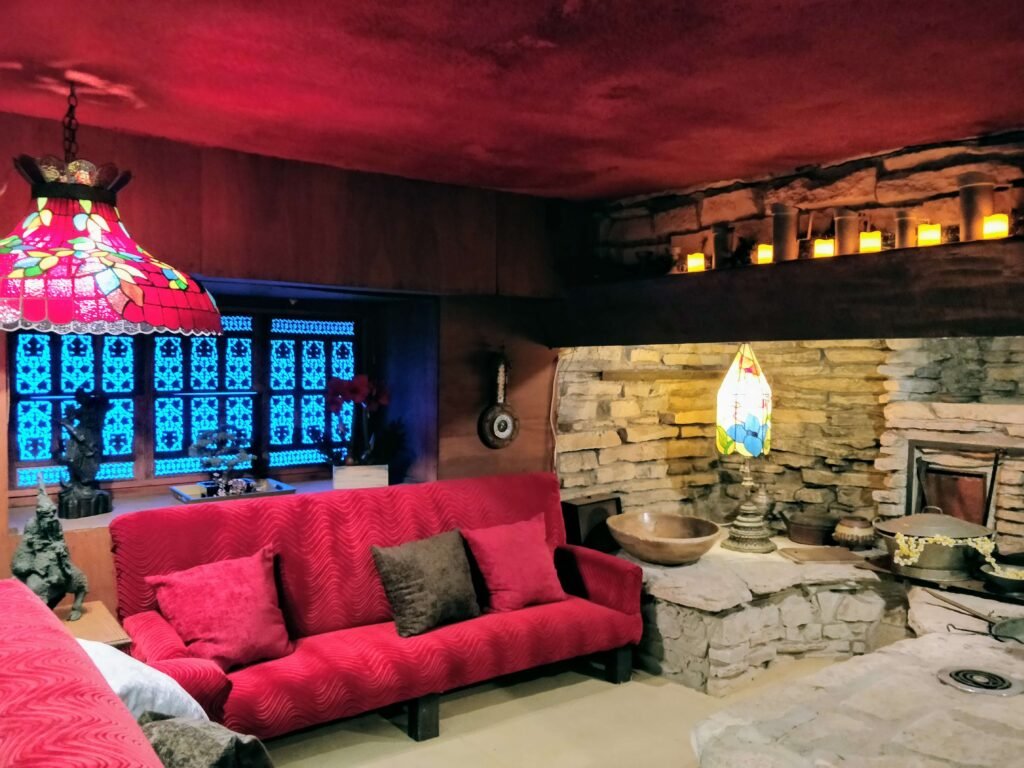 The result was a dark, musty, 13-room home, with sunken seating areas, huge stone fireplaces, and carpeted walls and ceilings.
It's an impressive abode. But it's what Jordan created later that made the place incredible—and indescribable.
---
With the money he made charging visitors to tour the house, he began expanding. He added room after room, collection after collection, turning House on the Rock into one of the world's strangest museums.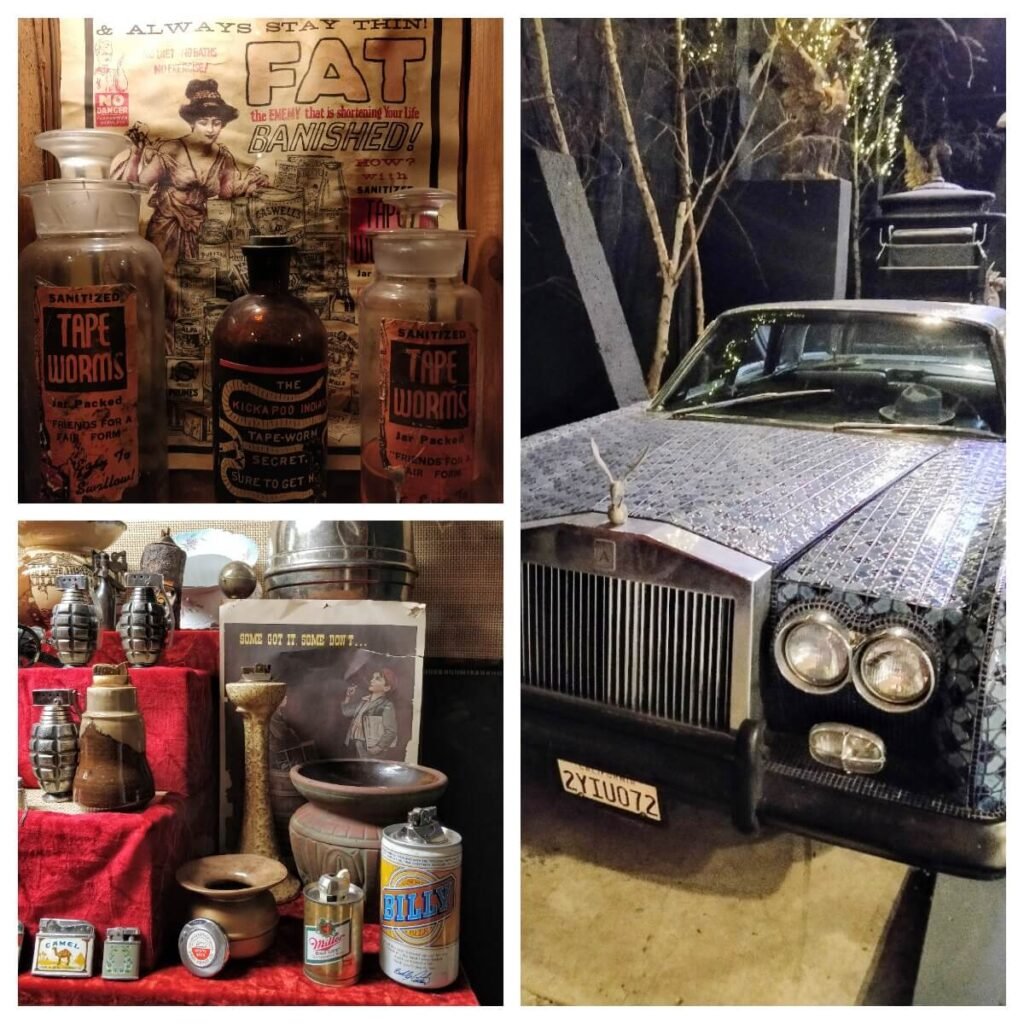 Tape worms? Check. An enormous collection of scrimshaw? Check. A Rolls Royce covered in 2,000 pounds of tile? Human-sized beer steins with frightening faces? A two-story sculpture of a killer whale battling a giant squid? Check. Check. Check.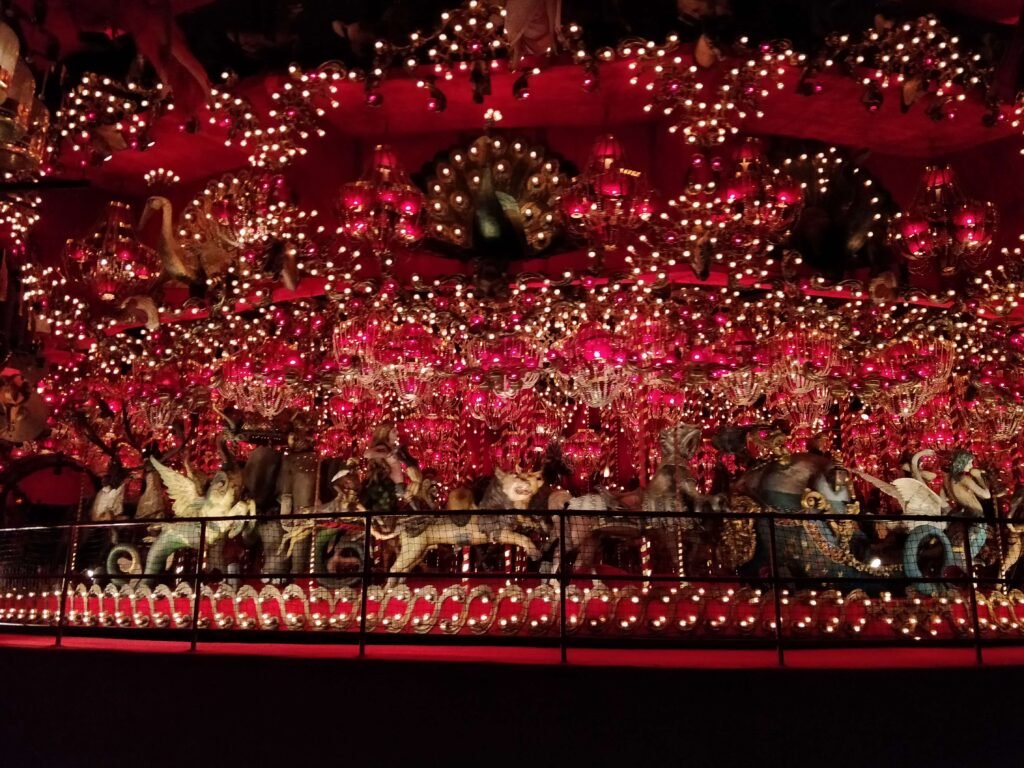 Jordan also collected more than 40 mechanical music machines—some so large they take up entire rooms—that spring to life at the drop of a 25-cent token. [1]You do get some free tokens with your admission. This way you don't have to wait around for a stranger to pay the token like some sort of creep… which, yes, is something I tried to do. And he assembled a mesmerizing indoor carousel, the largest of its kind in the world.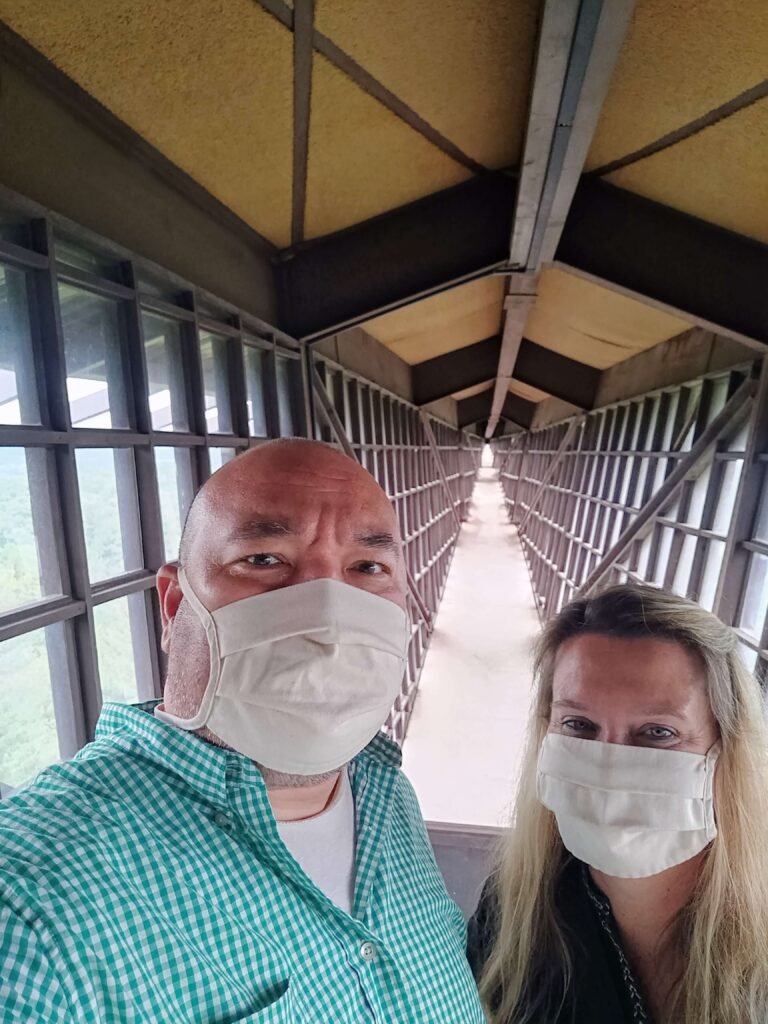 Perhaps his most amazing creation is the Infinity Room, an ever-narrowing space made of 3,264 panes of glass. Counterbalanced by 105 tons of concrete, the last 140 feet extend unsupported above the valley below. The floor shakes a bit the farther out you walk, adding a dash of terror to the experience. [2]I will never do this again.
We spent more than five hours at House on the Rock and felt we didn't even begin to take in everything. It is just too much. Way too much. Educational and creepy and fascinating and kitschy all at once. [3]Seriously, nothing can prepare you for the AMOUNTS of things this man collected.
Photos can't really convey how weird and wonderful this place is—everything is very dark and, for the most part, very red—but keep scrolling to see and learn more.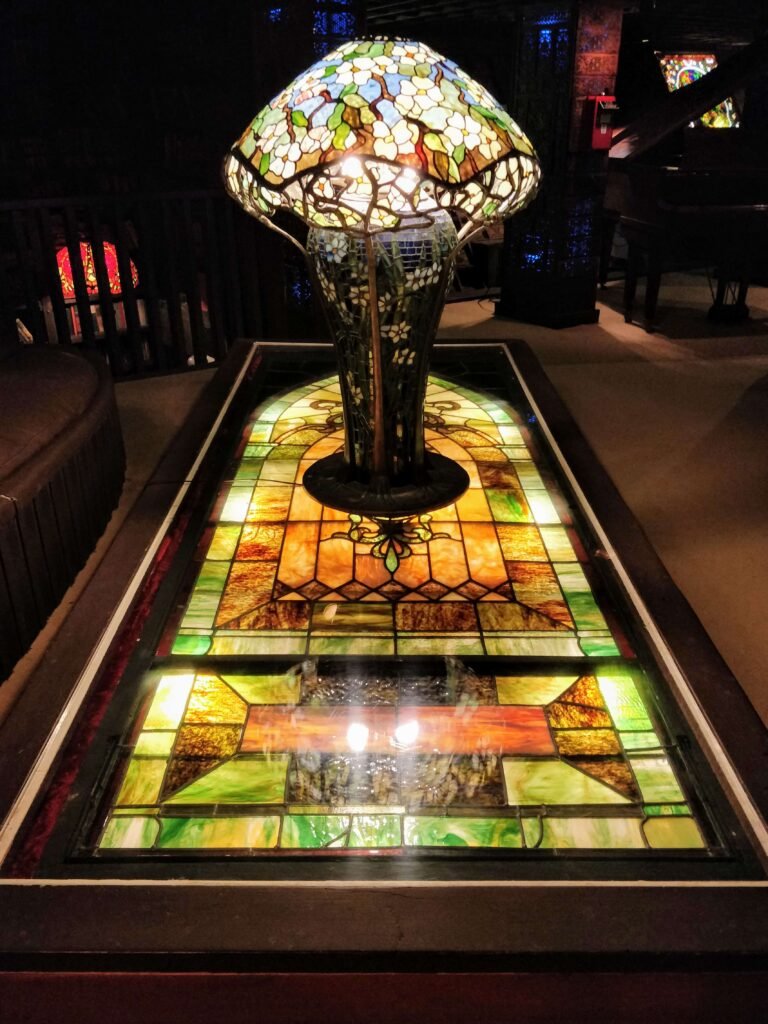 Tiffany Mushroom Lamp
This mushroom lamp inside the original house is actually a Tiffany—we think. Alex Jordan often paid people to make knockoffs of authentic or expensive items. That includes quite a few fake Tiffany's, but this one has its own magnet in the gift shop, so we think it's the real deal.
---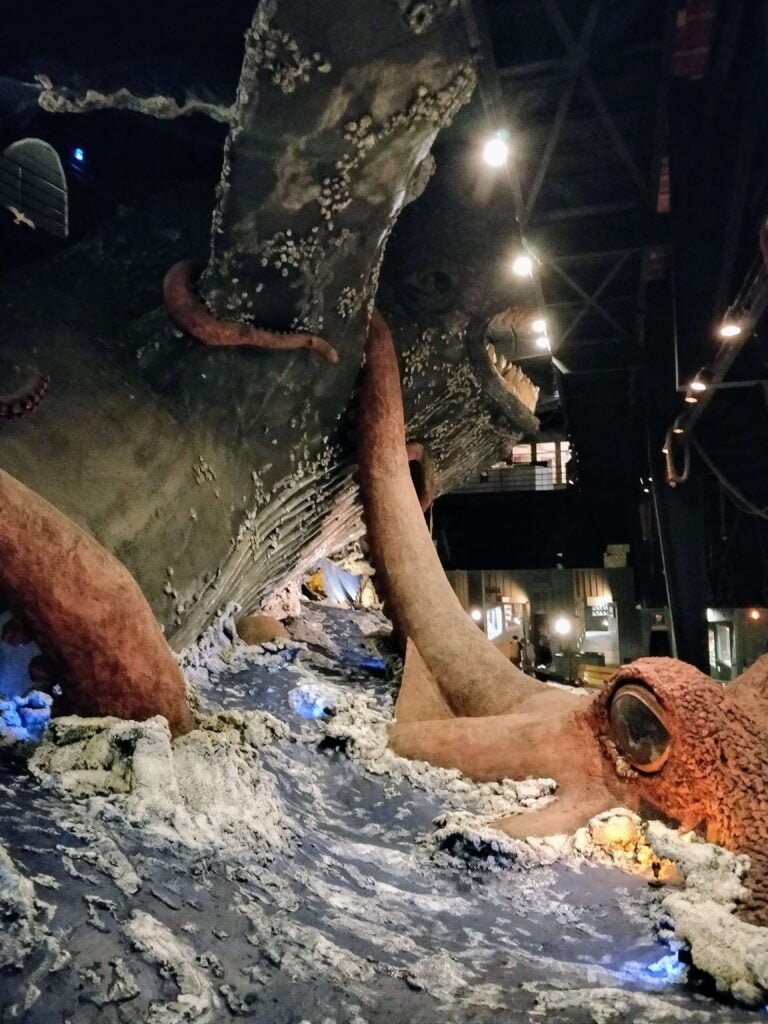 The Squid and the Whale
It's like no whale you'll actually find in nature, but that's hardly the point. This sea creature is as long as the Statue of Liberty is tall, 200 feet tall, according to HOTR literature. Even if that's slightly exaggerated, the whale is enormous, as is the huge-eyed squid he's battling. And if that weren't enough, they share a room with more than 200 model ships, including a version of the Titanic, and a mechanical music machine called Octopus's Garden, featuring dancing fish and a seahorse playing the drums.
---
Burma Shave
We'd heard of Burma Shave signs but had no idea they were so macabre. These signs, by the way, are on a ramp that leads to House on the Rock's café, which serves mostly hot dogs, pizza, and ice cream. It sits around the museum's halfway point, and we were ravenous by the time we reached it.
---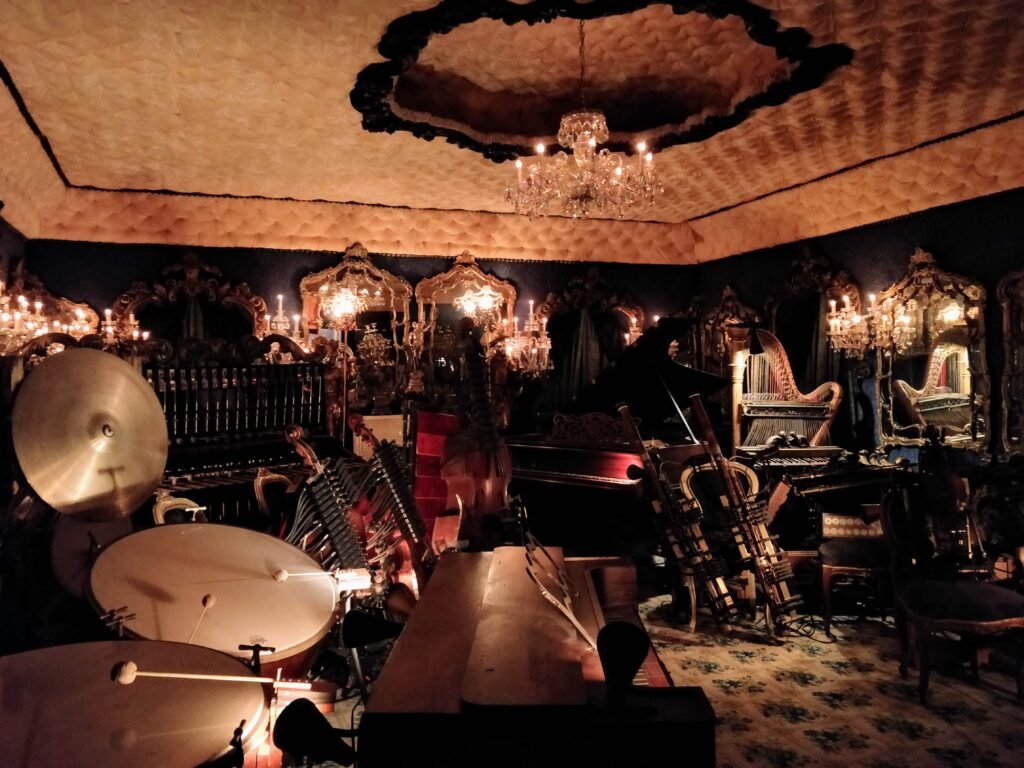 The Blue Room
One of several room-size mechanical music machines. Note the carpet on the ceiling. Jordan really liked carpet.
---
The Mikado
This was probably our favorite music machine. Pictures and video can't quite convey how stunning it is.
---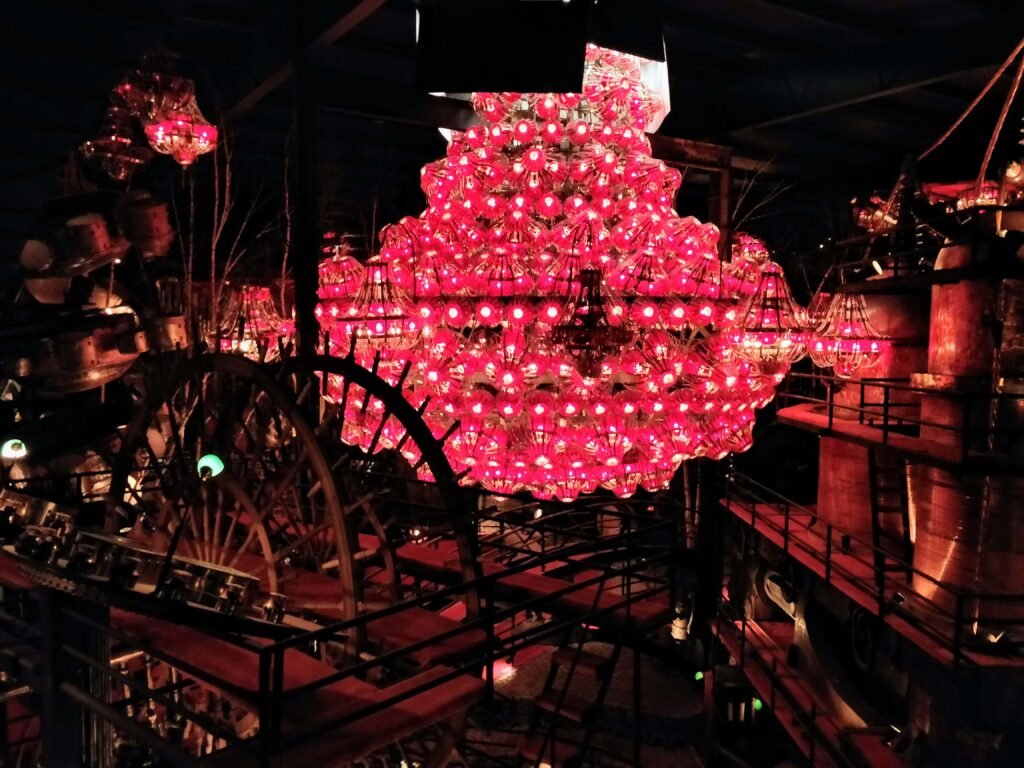 World's Largest Chandelier?
Is it the world's largest? Some might disagree. But again, strict accuracy and authenticity aren't really the point at House on the Rock. Inside this chandelier is a desk, where, legend has it, Alex Jordan would sometimes sit and spy upon his visitors from a safe remove. Pretty cool.
---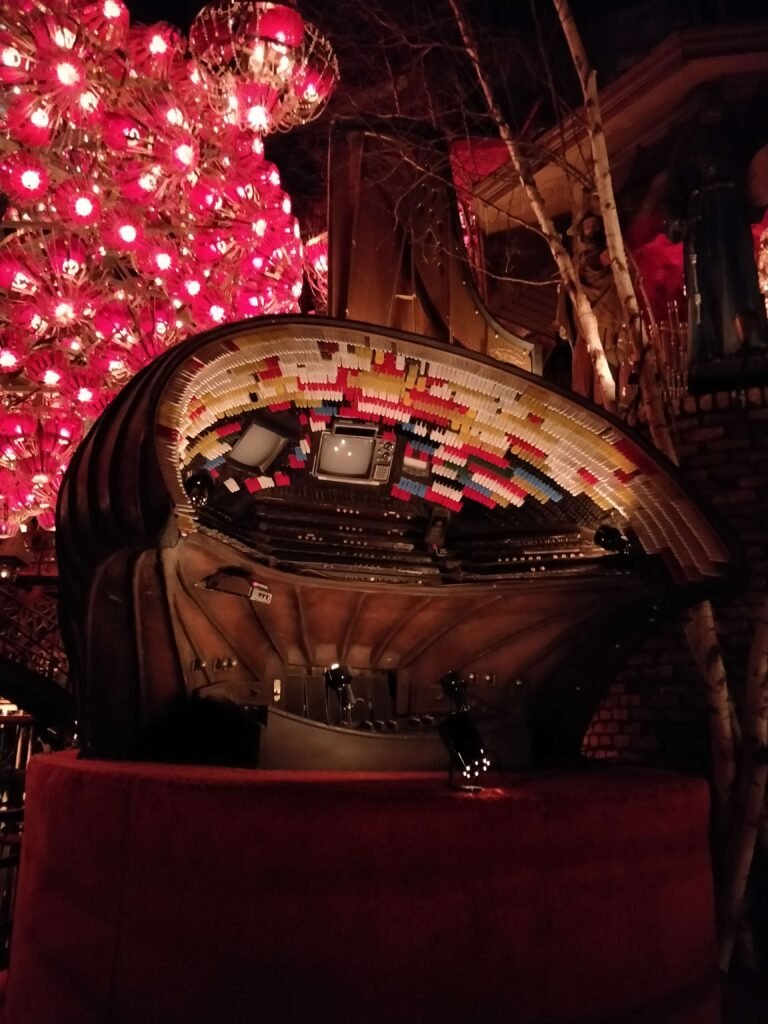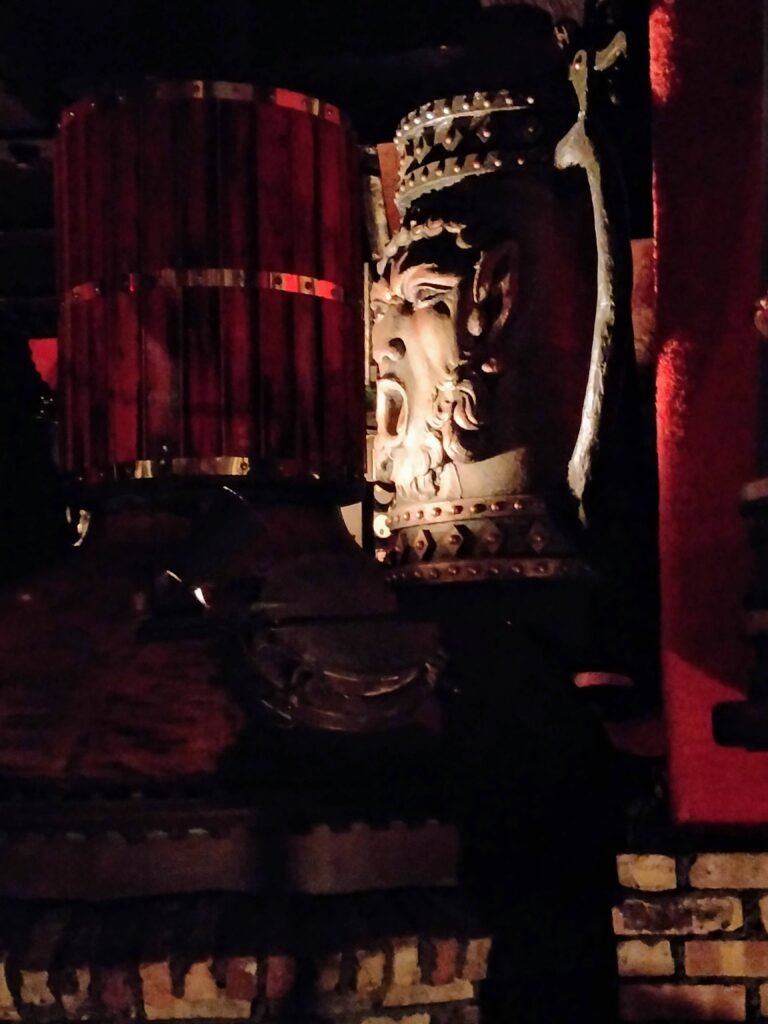 The Organ Room
The chandelier hangs above the Organ Room, which houses three organ consoles, stairways and bridges that sometimes lead nowhere, brewing vats, a huge metal bell, and those terrifying beer steins.
---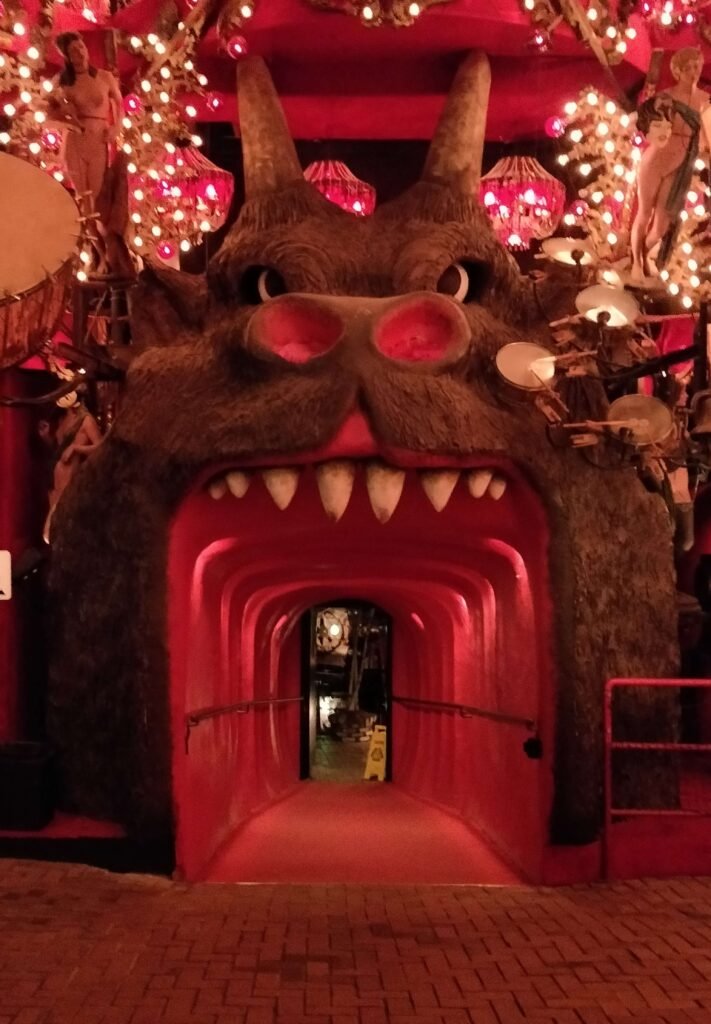 Gateway to Hell
You can't say the entrance to the Organ Room didn't warn us that things were about to get weird(er).
---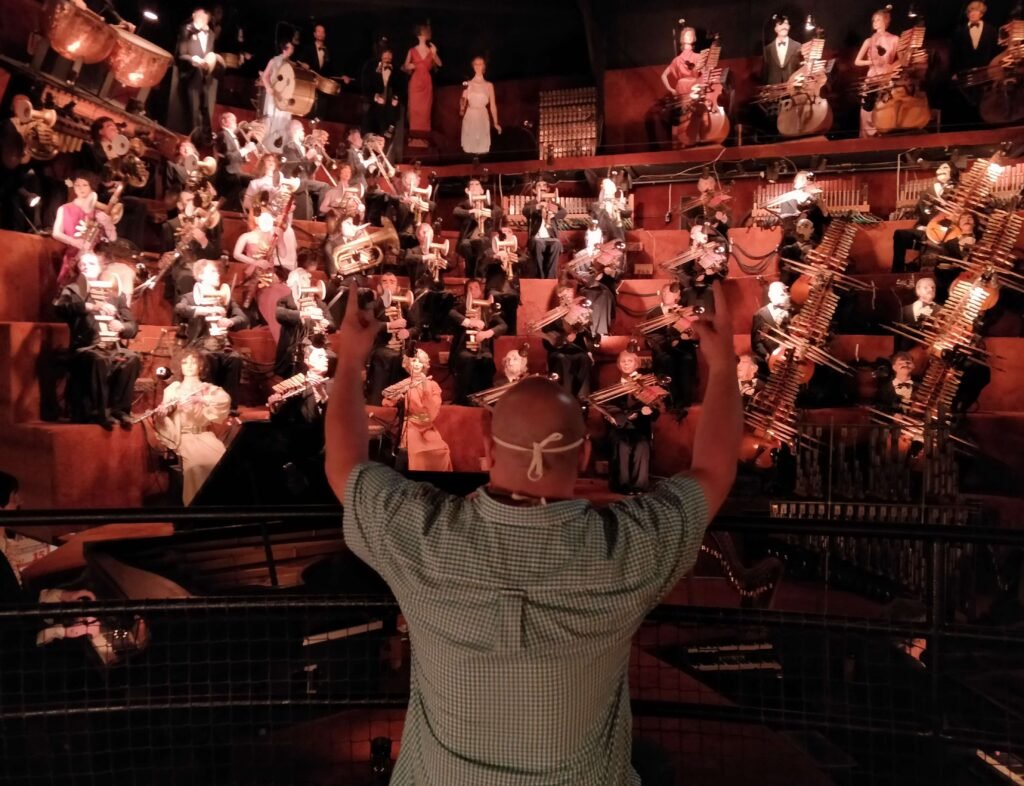 Mannequin Orchestra
Here's Fred conducting an 80-piece automated orchestra in the Circus Room, which is way more than one room and is also home to an elephant pyramid, an enormous circus wagon, and enough clowns to give anyone coulrophobia. My favorite things in this section, though, were the 100 or so Baranger Motion Machines, animated store-window displays found in jewelry stores from the 1930s to the 1960s. If you want to see some in action, check out this video shot by Art Hoffman.
---
World's Largest Indoor Carousel
It was seeing the carousel on "American Gods" that made me want to go to House on the Rock. Of its 269 creatures, not one is a horse. Instead, you'll find mermaids and dragons and bulldogs—tigers and centaurs and unicorns. The carousel has 183 chandeliers and more than 20,000 lights. No, you can't ride it, but that's OK. I sat, gobsmacked, watching it go round and round.
---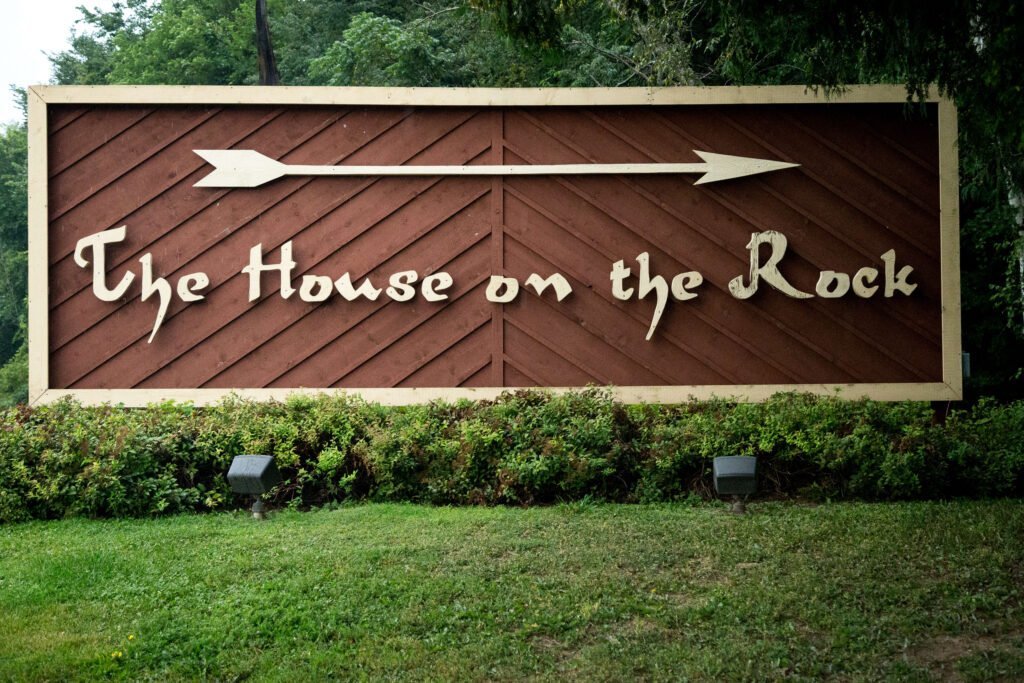 What it Costs, When it's Open, Where to Stay
House on the Rock is open every season except winter. Hours vary, though, so be sure to check the website when planning a trip. Cost is about $30 for adults if you want to tour all three sections (and why wouldn't you?). You can also rent a virtual tour for $4.95. We stayed at the House on the Rock Resort, which is about 10 minutes from the house in the middle of a golf course. It has two indoor pools, an outdoor pool, and a Jacuzzi. The rooms are fairly basic, but spacious and clean. You can get a package deal for a room and tickets that will save you a little money.
---
Frank Lloyd Wright Alert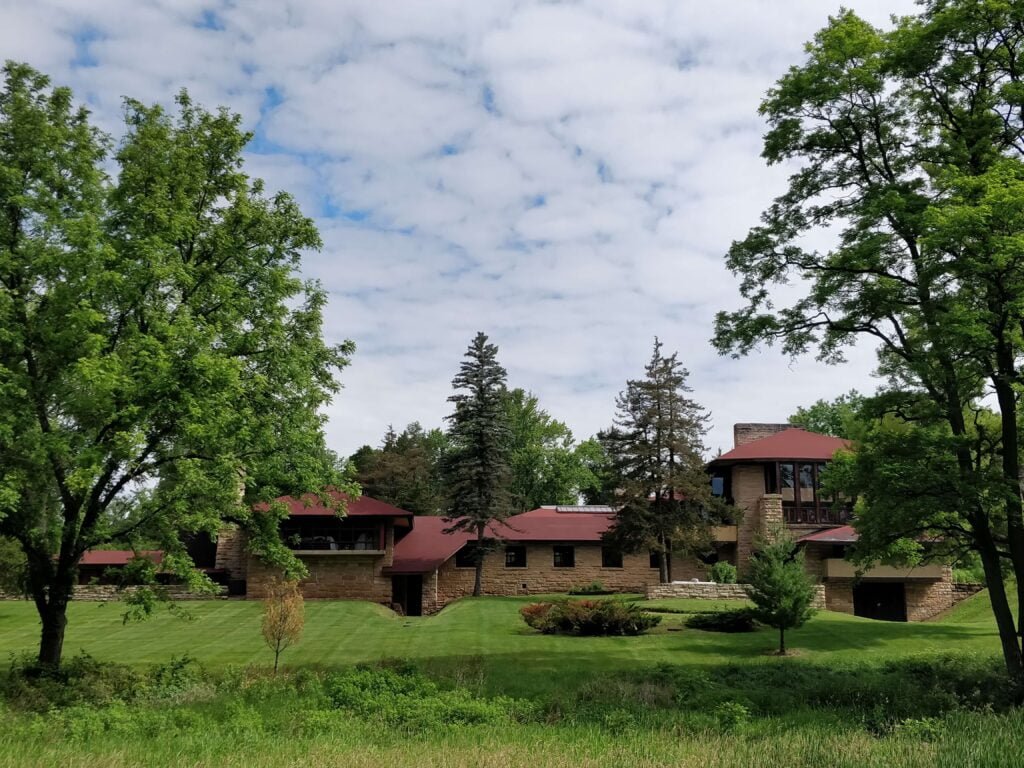 Spring Green is also the site of Frank Lloyd Wright's estate, Taliesen. We didn't know that when we planned this trip and so arrived on a day it was closed and did not get to tour it. You should plan to stay at least two days in Spring Green if you want to see House on the Rock and Taliesen.
---
One Last Thing…A Fred Foto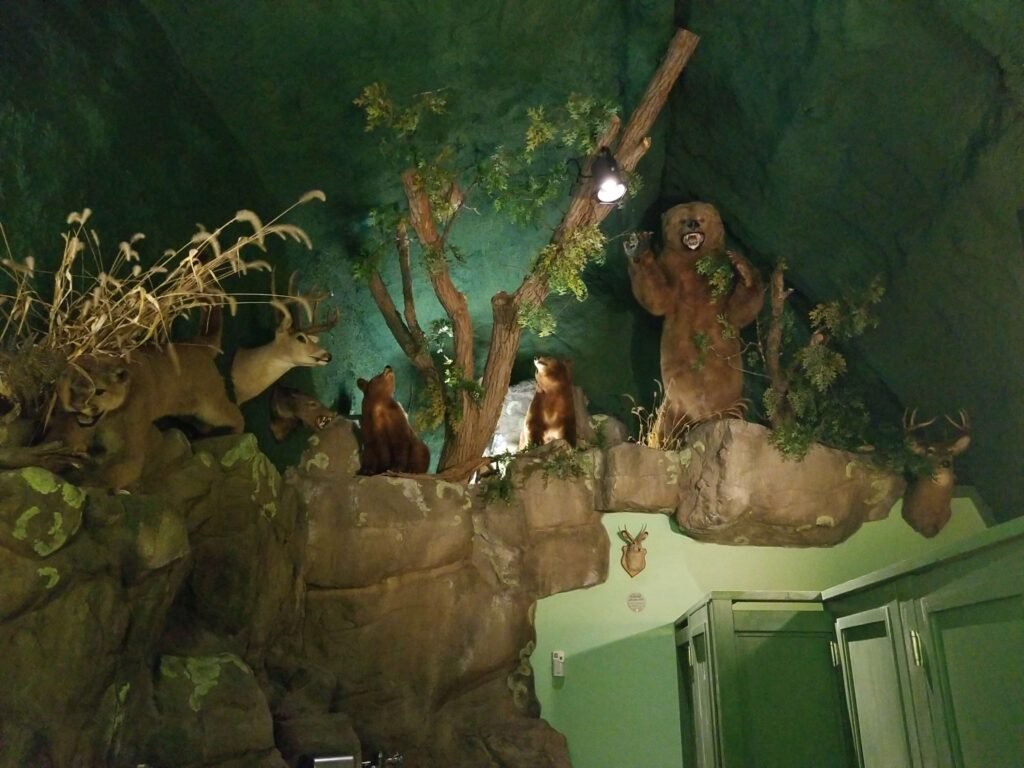 This was the interior of one of the men's bathrooms I visited. Pray you aren't somebody who has difficulty "going" if being watched! -Fred
Featured Post: Cassadaga, Florida's Kooky, Spooky Little Town
FredNotes

↑

1
You do get some free tokens with your admission. This way you don't have to wait around for a stranger to pay the token like some sort of creep… which, yes, is something I tried to do.

↑

2
I will never do this again.

↑

3
Seriously, nothing can prepare you for the AMOUNTS of things this man collected.