You'll Find History & Serenity in this Philadelphia Cemetery
Until the 1830s, Americans mostly buried their loved ones in church graveyards. But as cities grew, space shrunk. People rethought death rituals. Planners began developing cemeteries outside cities—beautiful, sprawling public parks where the living could enjoy a little peace and maybe a Sunday picnic.
Philadelphia's Laurel Hill Cemetery is the second oldest of these "rural cemeteries" in the country.
Founded in 1836, it spans 78 acres. And while it now lies within the city limits, it still feels a world away. I spent a couple of hours here without running into another living human, wandering the green hills and enjoying the gorgeous statuary and views of the Schuylkill River.
If you visit, I highly recommend Laurel Hill's free app, which offers four separate audio tours that bring the cemetery's history and art to life. Download and browse it in advance, so that you know what you want to see before you arrive on the vast grounds.
---
I did not do this, and so I missed seeing the grave of a famous fictional character, Adrian Balboa—you know, Rocky's wife. Sylvester Stallone donated the very real headstone after shooting scenes for "Rocky Balboa" and "Creed" here.
But I did manage to find tributes to America's first important novelist and its first great white shark victim, to a famous baseball announcer and to a courageous abolitionist. Keep scrolling to see these and more.
---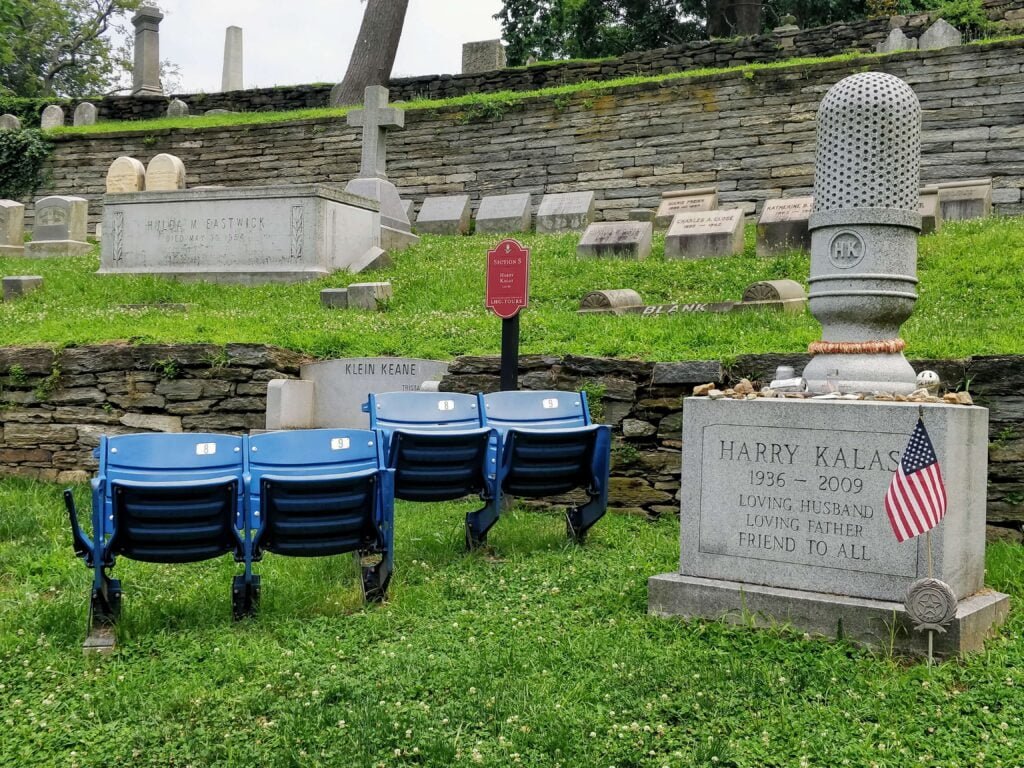 Harry Kalas
The most unusual gravestone in Laurel Hill belongs to Harry Kalas, beloved play-by-play announcer for the Philadelphia Phillies from 1971 until his death in 2009. Kalas, who collapsed in the broadcast booth in D.C. and died shortly thereafter, was only the fourth person to ever lie in state inside a Major League Baseball stadium. In addition to the microphone monument, his family and friends installed sod and four seats from Philadelphia's now-demolished Veterans Stadium. (Kalas called both the first and last games played there.)
---
Millionaire's Row
Many of Philadelphia's captains of industry are buried along what is known as Millionaires' Row, a prime location with views of the Schuylkill River.
Henry Disston, who made his fortune in handsaws, has the largest mausoleum there. It's 50 feet tall and covers 325 square feet (about the size of the average U.S. hotel room).
Railway magnate Robert Carson died of heart failure at opening night for a new operetta. "Drops Dead in Theatre," proclaimed the 1907 New York Times headline announcing his death. His ever-so-polite wife, Isabel, waited until the end of the show to notify the staff because she didn't want to spoil the night for other theatergoers. That's a great story all on its own, but it gets even better when you know the title of the operetta: "The Merry Widow."
---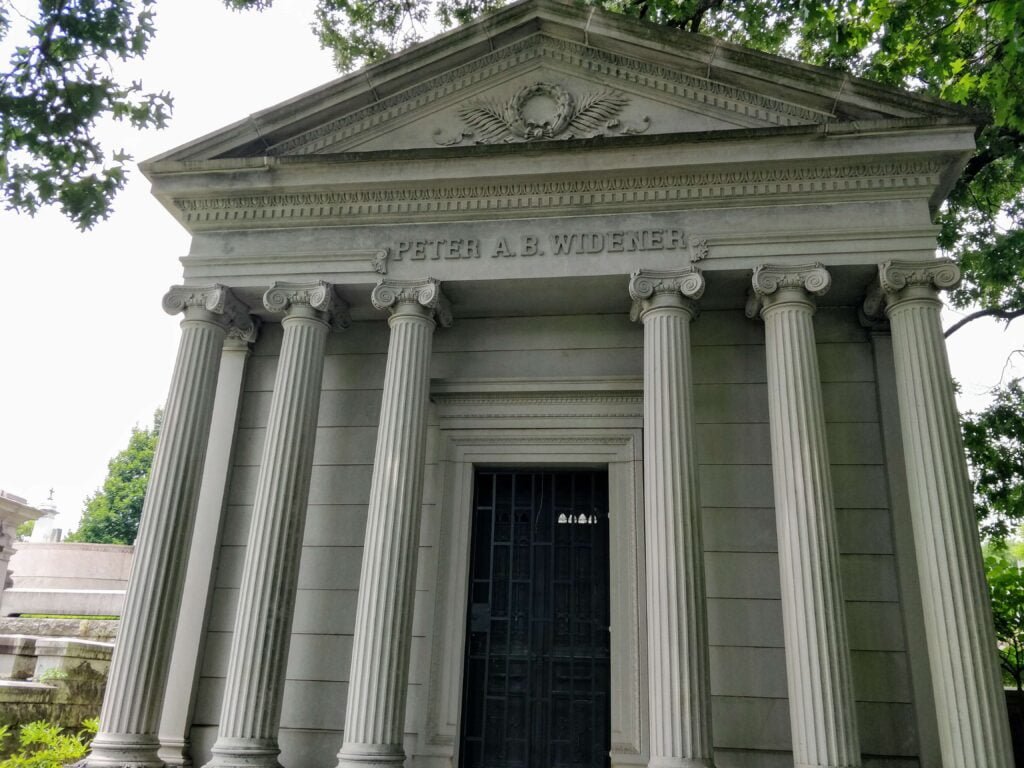 Widener Family Mausoleum
Peter A.B. Widener started out as a butcher in his parents' shop and went on to become one of the wealthiest men in America. His big break came when he won a contract to supply Union troops with mutton. He invested his profits in streetcars and eventually cofounded U.S. Steel and American Tobacco Company. The Wideners had a home with 55 bedrooms and a ballroom that could hold 1,000 people.
But money can't always save you from tragedy. In 1912, Widener's son, daughter-in-law, and grandson went to Europe in search of a chef for their new hotel, Philadelphia's first Ritz-Carlton. When they finished their business, they set sail for home on a brand new ship—the Titanic. Both men were lost at sea; the daughter-in-law was rescued and funded a library at Harvard in honor of her son.
---
Mary Anna Longstreth
In 1850, a lynch mob dragged Mary Anna Longstreth from her home to a public square, intent on hanging her for her abolitionist views. She escaped when the militia showed up and a battle erupted. Throughout her life, Longstreth championed the rights of women and Black people. She and her sisters started a school for girls when she was 18, and she taught more than 1,000 students over the next 50 years—also finding time to help start the world's first Medical College for Women.
Longstreth also was heavily involved in the Underground Railroad and later fought for Blacks to have the right to ride on Philadelphia streetcars. She raised funds every year for what is now Hampton University (Booker T. Washington's alma mater).
In short, she was a badass (though I doubt she would approved of my language). If you want to learn more about her, a couple of former pupils wrote a short biography, available free here.
---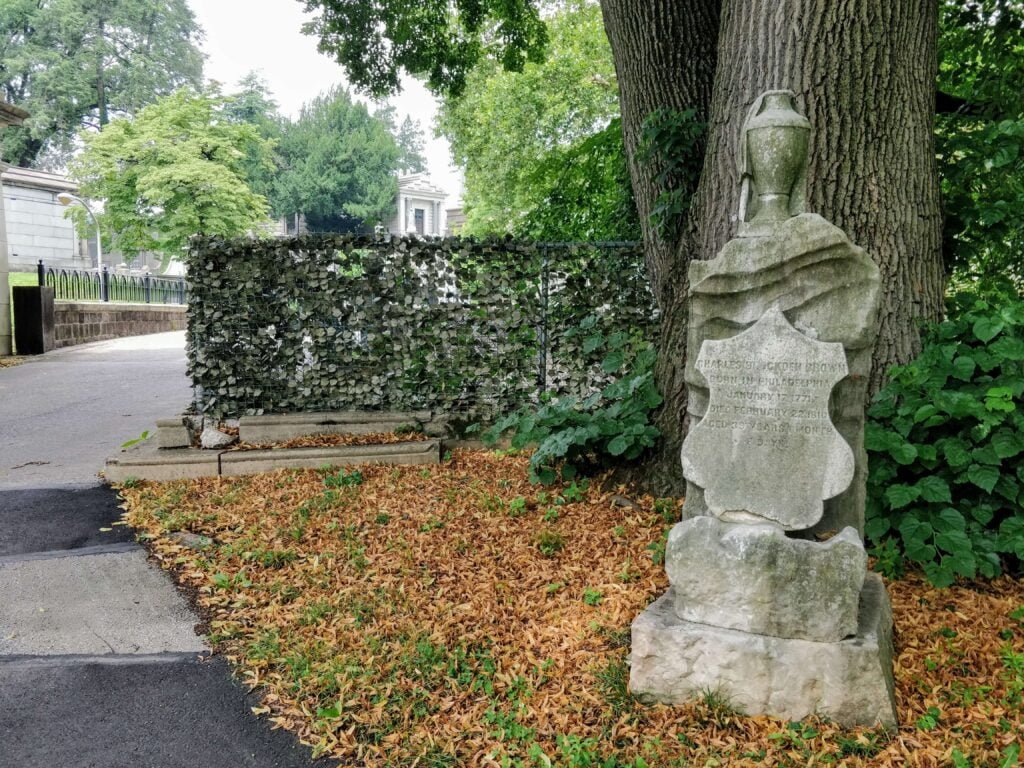 Charles Brockden Brown
Charles Brockden Brown is thought to have been the first American to earn his living solely as a writer, so naturally, I had to include him here. Brown wrote Gothic fiction—horror stories full of monsters and murder. Until James Fenimore Cooper came along, he was considered THE most important American novelist. Though he's been largely forgotten, he influenced writers whose names everyone knows: Edgar Allan Poe, Nathaniel Hawthorne, and Mary Shelley.
Brown also was a feminist; his first novel, "Alcuin," came out in serial form under the title "The Rights of Women." He died of tuberculosis when he was just 39, and he's buried elsewhere, but his fans erected this monument here because he grew up roaming the woods where Laurel Hill Cemetery now stands.
---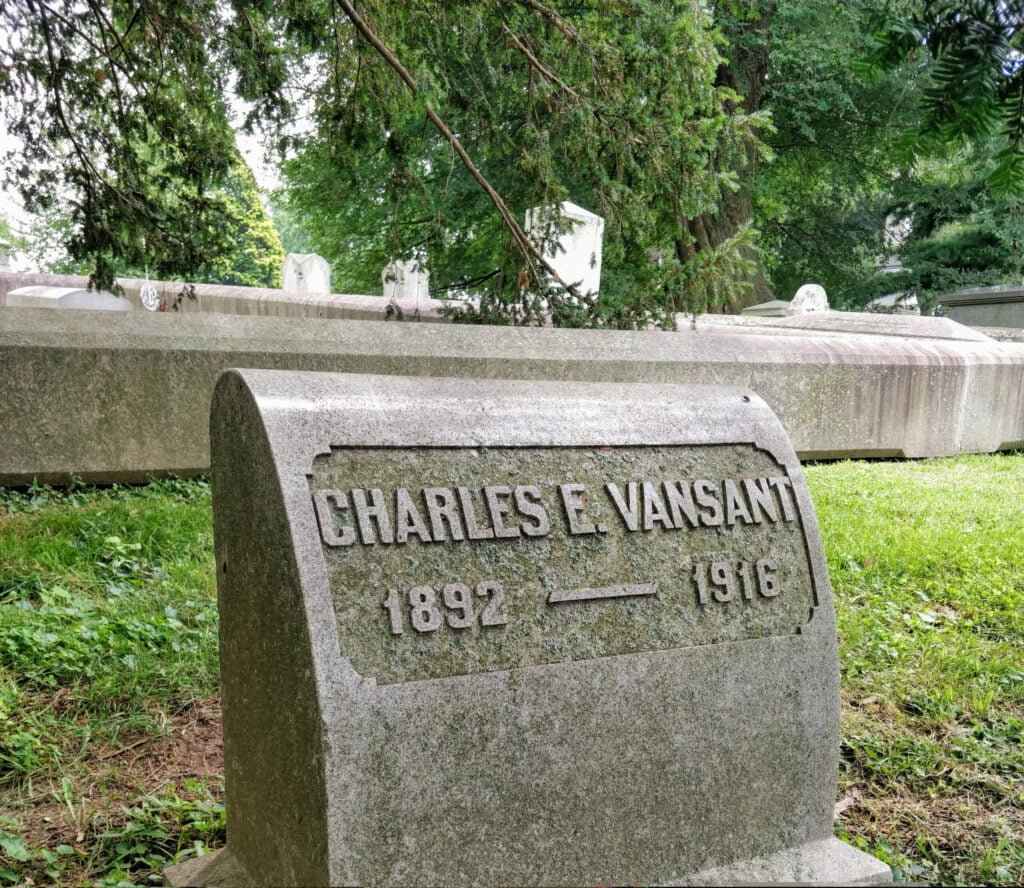 Charles E. Vansant
Charles Epting Vansant's future looked bright in the summer of 1916. The recent University of Pennsylvania graduate had found a job as a stockbroker and gotten engaged to a lovely girl. Then he went with his family on a 4th of July trip to Beach Haven, New Jersey.
On his first afternoon there, a great white shark attacked him in 3-and-a-half feet of water. Bystanders got into a tug-of-war with the shark, but it was too late to save Vansant. Up until then, no one thought sharks attacked humans. But over the next 12 days, three more men died in shark attacks along the Jersey coast. Sound familiar? Vansant's story is thought to be the inspiration for the book "Jaws," though author Peter Benchley has denied this.
---
General Robert Patterson
Major General Robert Patterson, a businessman/politician/soldier, immigrated to Philadelphia from Ireland in 1799. He fought in the War of 1812, the Mexican-American War, and the Civil War. Remarkably, Patterson was 69 years old when he volunteered to fight. He handed Stonewall Jackson an early defeat but then made some mistakes that many thought cost the Union the First Battle of Bull Run. He was mustered out of the Army a few weeks later.
---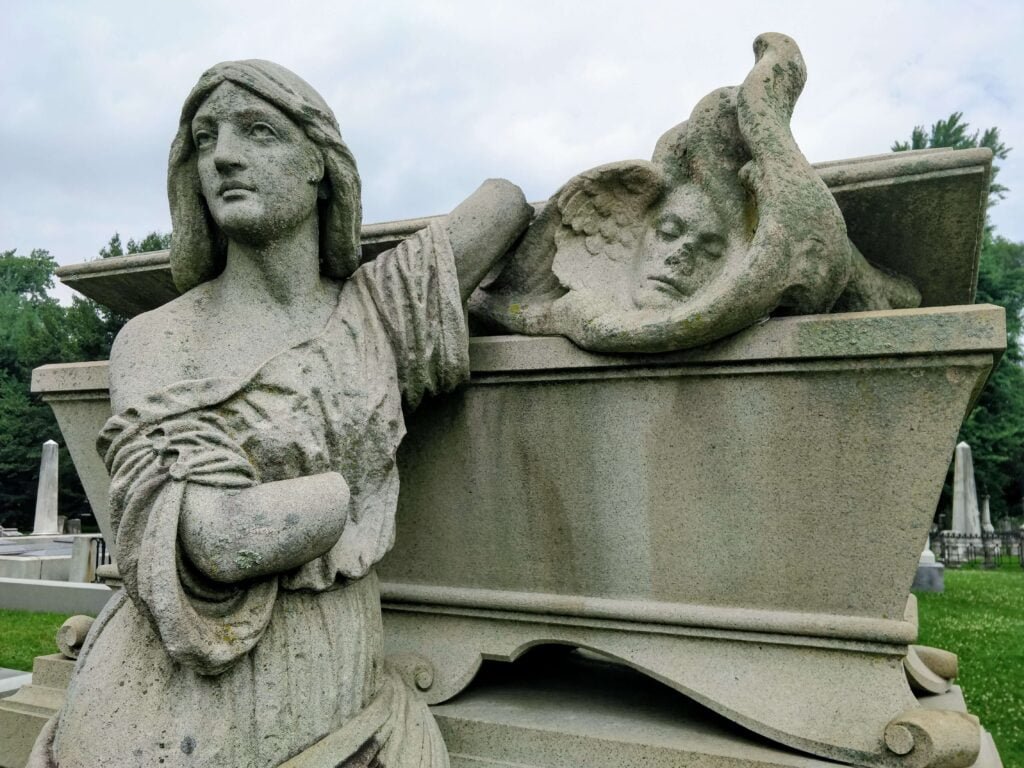 William Warner
When I saw this monument, I imagined it must have been for a young boy, but it's actually the grave of a wealthy coal merchant who died in 1889 when he was in his 60s. It was created by Alexander Milne Calder, who also carved the statue of William Penn atop Philadelphia's City Hall. (And who was the grandfather of famous mobile creator, Alexander Calder.)
---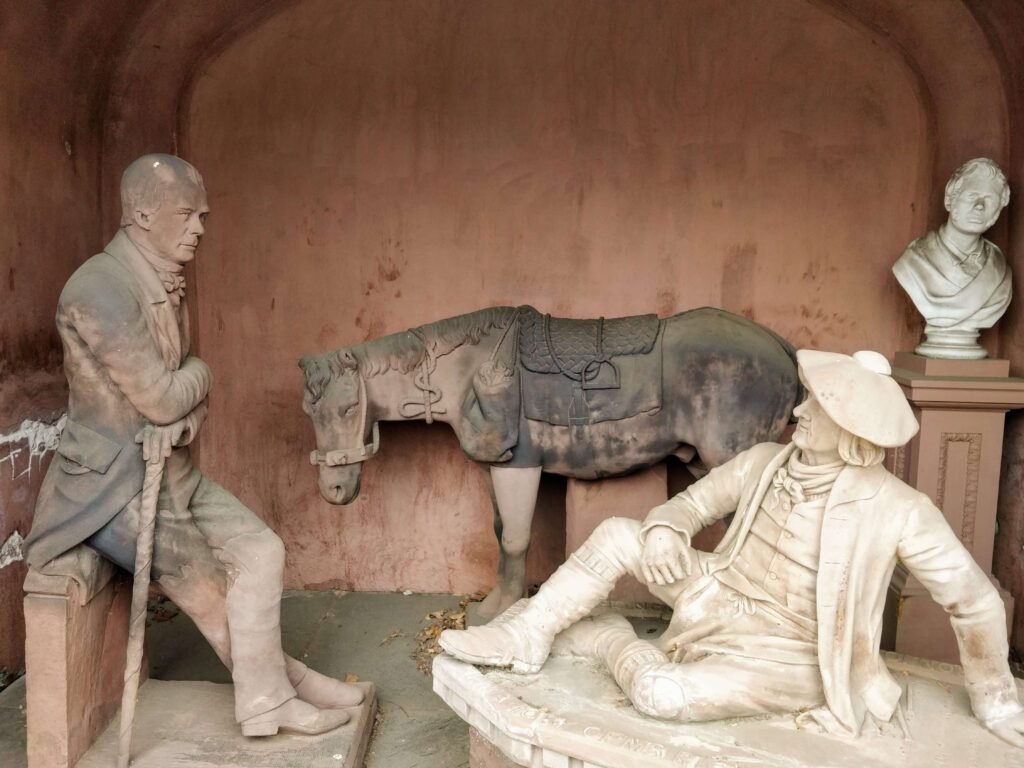 Old Mortality
Just inside the gates of Laurel Hill Cemetery is "Old Mortality," which depicts a scene from a Sir Walter Scott novel of the same name. That's Sir Walter Scott with the cane. The old man in the hat is Scott's character Old Mortality, who wandered around Scotland re-carving the names of religious martyrs into their gravestones.