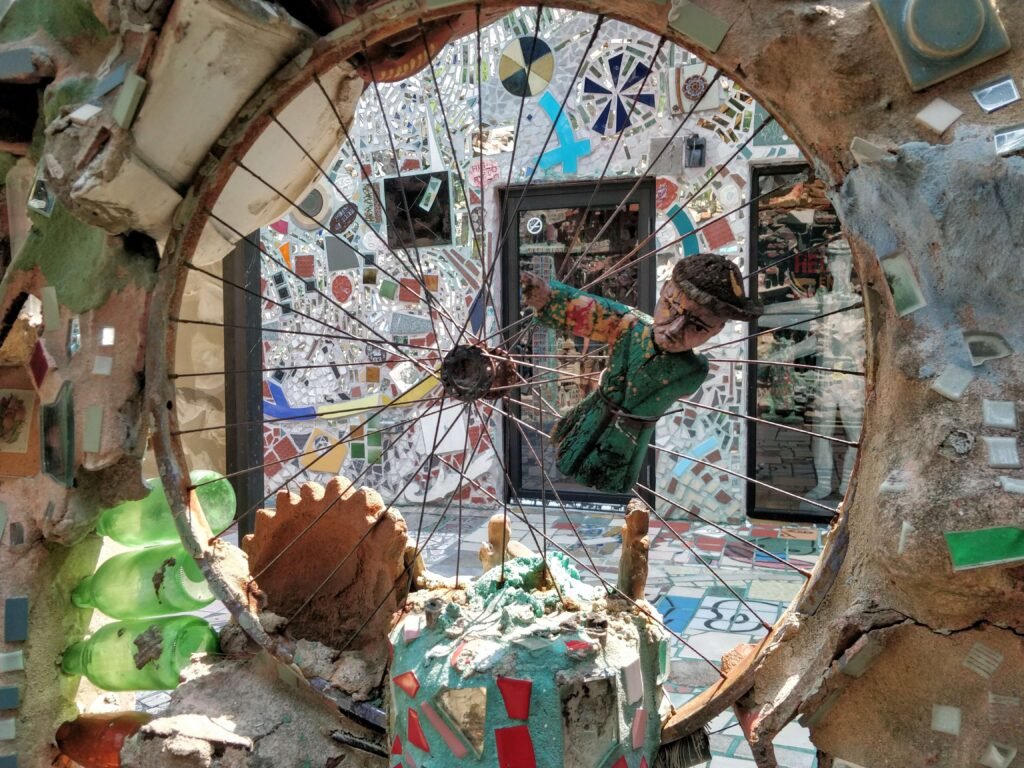 Mosaic Masterpieces from a Madcap Mind
There are no gardens at Philly Magic Gardens, but there is definitely magic.
Artist Isaiah Zagar spent decades creating his "gardens," transforming two vacant lots on Philadelphia's South Street into something beautiful—sculpting multilayer walls out of found objects and covering every inch of available space, including the floors, with mosaics.
It's an almost paralyzing riot of colors and shapes and words and ideas.
Usually referred to as an "immersive" art environment, neither words nor pictures can truly do it justice. But we'll try anyway.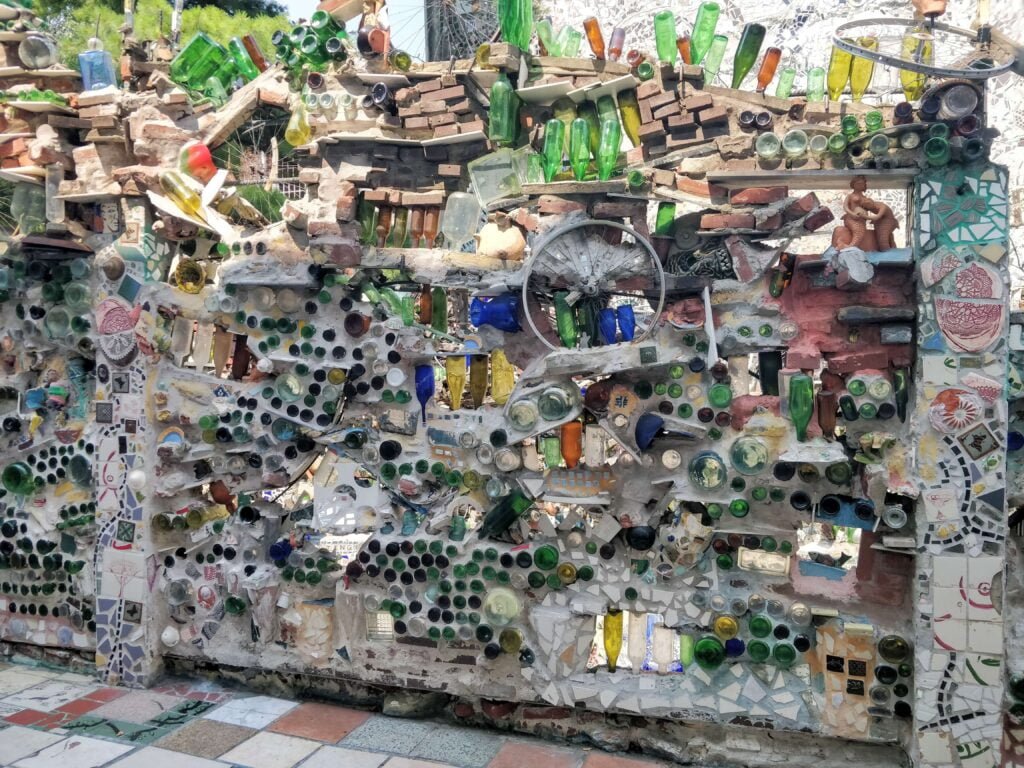 ---
Zagar, now 82, grew up in Brooklyn, studied art in college, and served in the Peace Corps in Peru alongside his wife, Julia. The couple settled in Philadelphia in the late 1960s. They started mosaicking rundown buildings near their South Street home, helping revitalize the neighborhood. When a proposed highway threatened to wipe out South Street, they teamed up with other artists and activists to save their beloved street.
---
In 2004, it was Zagar's own work that needed saving. The artist hadn't gotten permission to use the vacant lots, and when the owner decided to sell the property, he wanted the artwork gone. Immediately. He threatened to bulldoze every bit of it, calling it "garbage." Thankfully, lawyers got involved and donors stepped forward to help buy the property. After that, Zagar greatly expanded the site, excavating and beautifying the former buildings' basements to create a multilevel space.
---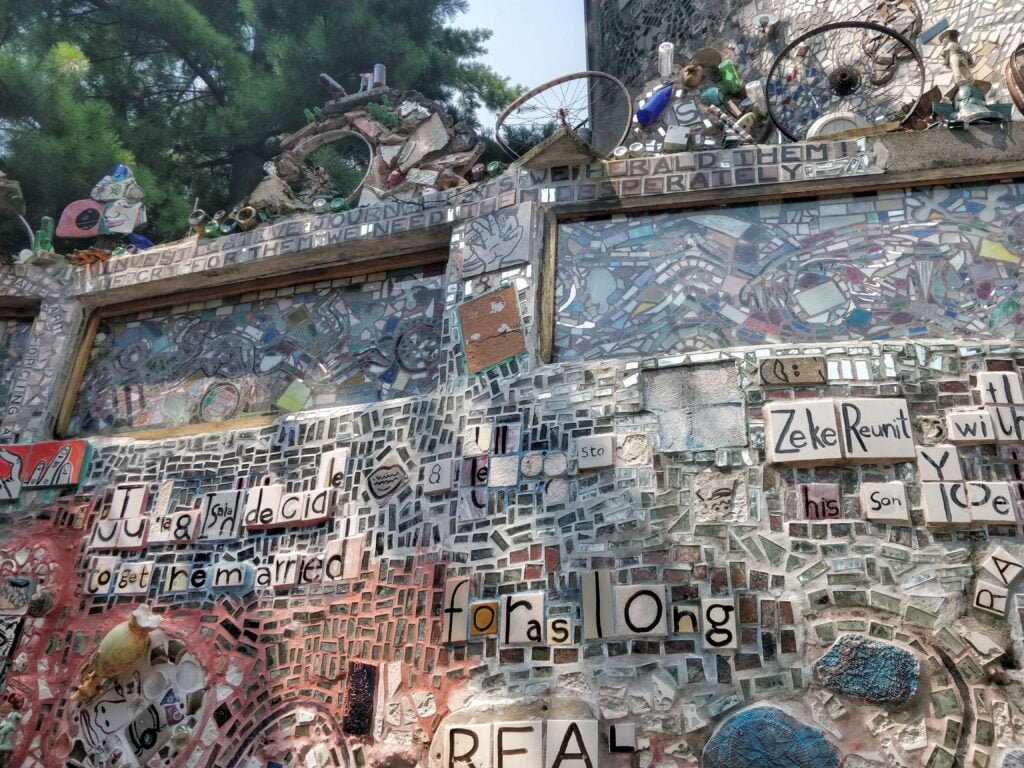 To walk through Philly Magic Gardens is to get a glimpse into Zagar's unusual mind—not that you're likely to understand much of what you see. Some of it is biographical; some of it is philosophical. A New York Times reporter once wrote that the gardens contain "enough signs and symbols to confound Umberto Eco." In that same article, Zagar said, "I use art as a spider web, to trap people and change how they look, feel, dream."
---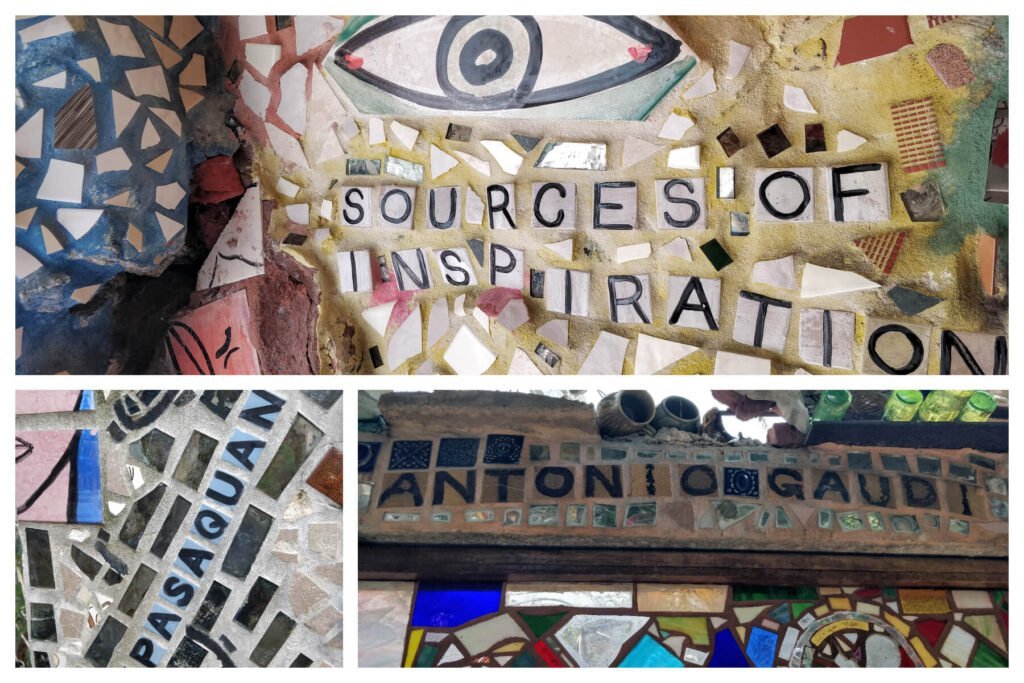 Zagar also uses his art to pay tribute to artists who influenced him or whose work he admires, artists like Antoni Gaudí, Clarence Schmidt, and Georgia's own Eddie Owens Martin, creator of one of our favorites, Pasaquan.
---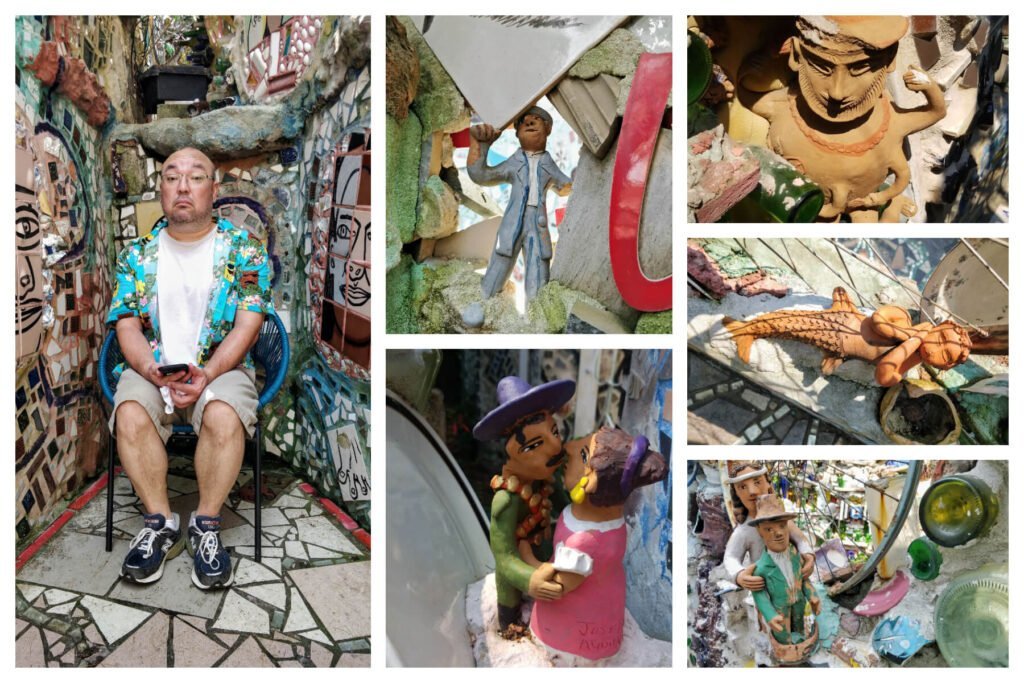 With so much to look at, it's easy to feel overwhelmed. Zagar inlaid dolls, bicycle wheels, bottles, ceramic figurines, bricks, plates, pottery shards, broken bits of mirror—and even screws—into his walls.
---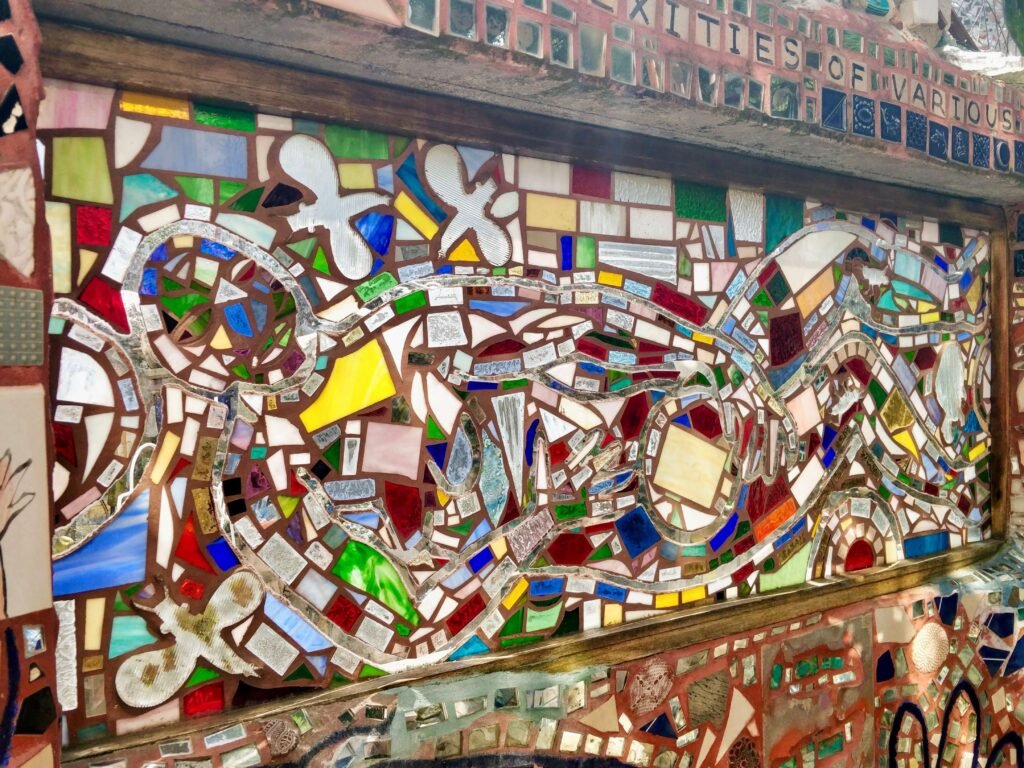 Today, a nonprofit organization owns and runs Philly Magic Gardens If you want to see it for yourself—and you really should—it's open daily except Tuesdays (and some holidays) from 11 a.m. to 6 p.m. Admission is $15 for adults, with discounts for students, seniors, and military personnel. Right now, because of COVID-19, tickets are timed and have to be reserved in advance.
---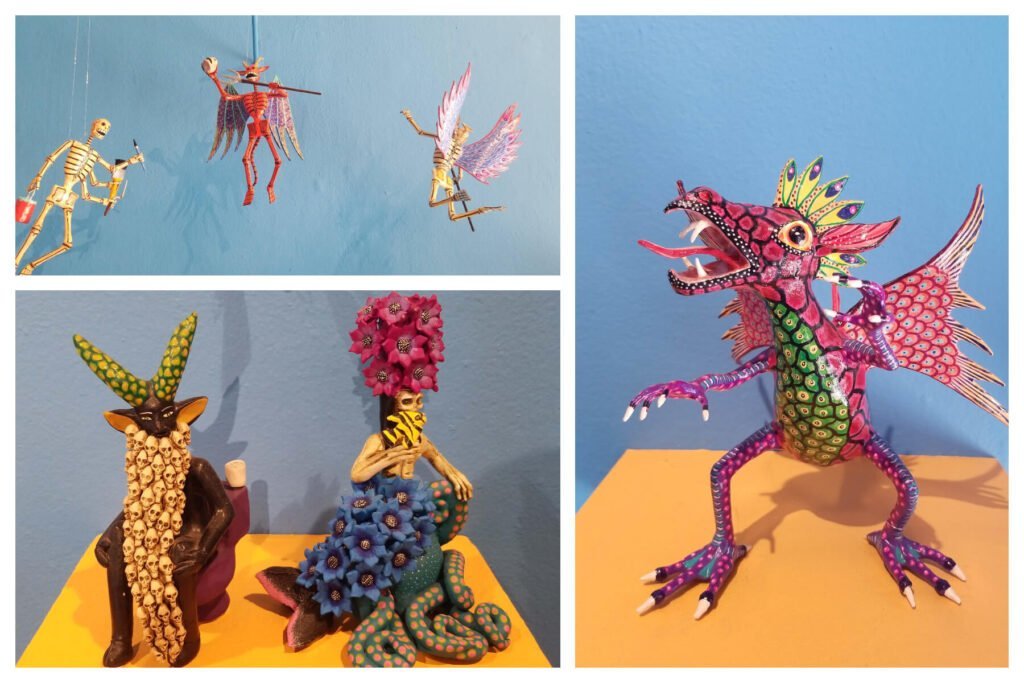 The space also includes two indoor galleries, which were showcasing some cool Latin American folk art when we were there.
---
Even the bathrooms are works of art!
---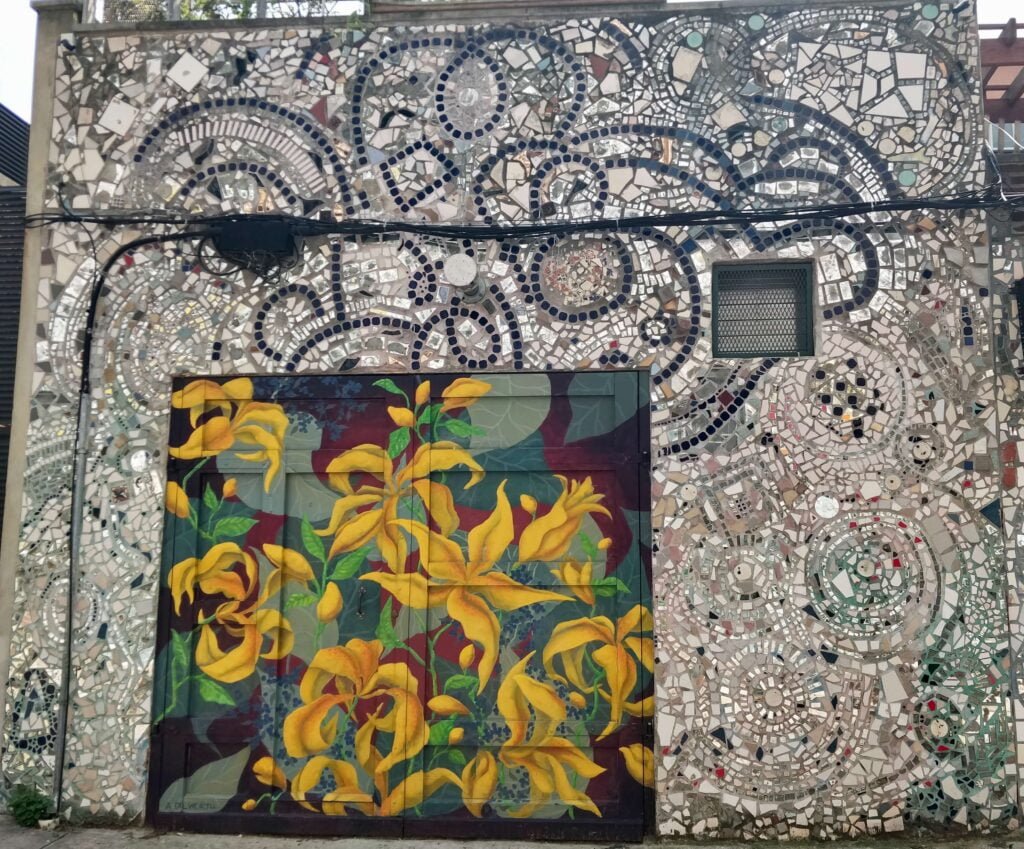 One of the neat things about wandering around the neighborhood surrounding the Gardens is that you often encounter mosaicked walls or storefronts. This one is right across the street from the Gardens, but they're scattered all around. Zagar himself created more than 200 murals in the neighborhood; other people, inspired by his efforts, added still more. Gardens staffers offer neighborhood tours a few times a week, which we would like to have done.
---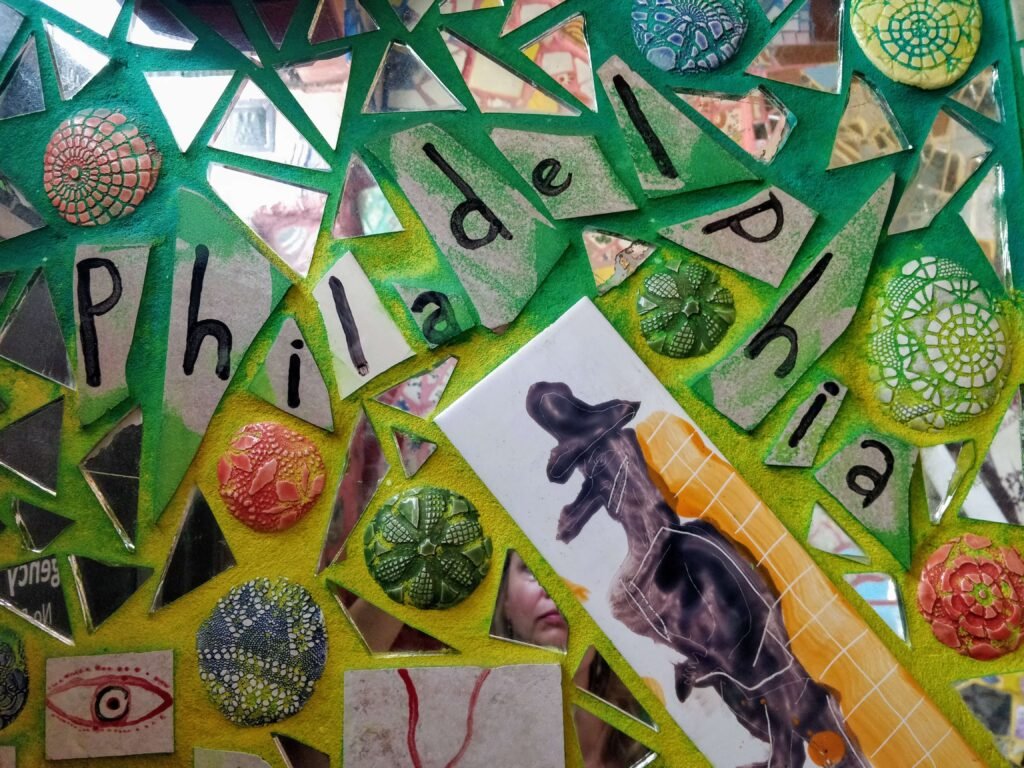 Another offering we're sorry to have missed is Thursday's night Crafter Hours, when for $25 you can make your own mosaic magnet while indulging in your favorite BYO beverage. These tend to sell out, as we learned the hard way, so plan ahead!
Fred's Colossal Philly Magic Gardens Stories w/ Pics!